Buying Couches The Entire Family Can Enjoy
Family rooms are meant to be the heart of the home where everyone gathers to hang out. Some will also refer to this room as the den. For many, this room is their favorite spot in their home- it is for me! A major reason the family den is such a favorite hang-out spot is because of the comfortable furniture. Following entertainment options, your furniture should be your top priority when putting together your family room.
So, what should you consider when purchasing comfortable couches for the family den? Some things to consider when purchasing comfortable couches include:
Size of the room
The number of family members
Your budget
Age of guests
If this is your primary residence
Style
What's already in the room
Comfort and versatility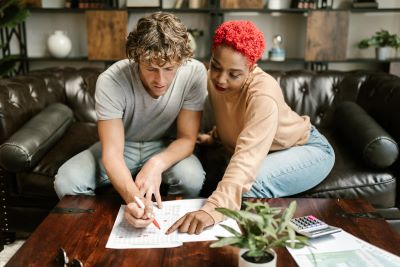 With this as a starting point, you can confidently start the process of getting furniture for your family den. If anything on this list came as a surprise to you or seemed unnecessary, keep on reading! I will tell you more about why I think these steps are so important.
1. Size Of The Room
Not only will you need to make sure your couch fits in the den, but it's also important to think about how much "wiggle room" there is. This includes walking around and behind the furniture.
You will also want to take note of where in the room you will want to position the couch(es). It's quite frustrating to get a right-sided sectional, only to find it won't work how you need it to. So be sure to take lots of measurements of your room and the couches while shopping to ensure a good fit.
Also, make sure you can get your couch or sectional into the room! I know it sounds silly but when we bought our home a few years ago, we had to replace a couch because we couldn't get it down the stairs into the basement family den. It was such a headache!
2. Number of Family Members
Now that you know how much room your couches need to take up, it's time to think about the number of family members and guests who will be occupying this space. If this room is mostly used by just 2-3 people, then perhaps a love seat or recliner would suffice.
However, if it's used by a larger group, you might want to strongly consider getting a sectional or couch and a few other seating options.
3. Your Budget
Of course, this is one of the most important factors to consider. Your family den is a place where you can relax and spend time with your favorite people, so it's worth investing in some nice pieces!
However, there are ways to save money and still get great value:
Estate sales or auctions will likely allow you to get some nice pieces of furniture for less, but make sure to do your research first on how to spot expensive items.
Buy used, especially if you aren't afraid to put in a little work to clean up an item or restore it. You can win big this way by just buying a cover or using a fabric cleaner to make an old couch look like new!
Shop around for discounts. Most furniture stores will have sales especially around holidays so if you can wait for a sale to purchase your couches, you may get a great deal!
Check warehouse/wholesale furniture stores. These stores will often sell furniture at some of the best prices, but you won't always know their selection. Most of the time there is small imperfection with these pieces, but again you're getting a great deal and you can likely make it look fine!
4. Age of The Guests
This is important to think about. If your family den is occupied by mostly young children, then get a more durable couch that is play-friendly!
For teenagers, however, you'll want to consider more comfortable furniture with plenty of room for all their friends! Adults may want more style and function so you may consider couches or a sectional with cup holders and built-in recliners.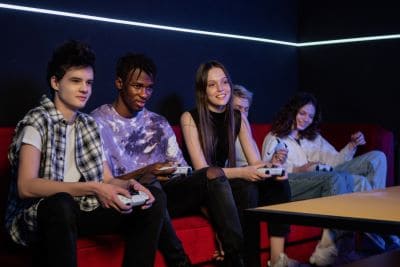 5. Is This Your Primary Residence?
Another factor in your furniture is whether or not this will be a long-term home for you. If it's more temporary or a vacation home, then it's likely you will not be spending a lot of time here.
In this case, you can save money and get used furniture or discounted pieces that you won't need to stand the test of time. If it is your primary home then it's worth it to invest in high-quality pieces that you will use and love for many years.
6. Style
When considering your family den, it's important to think about the style of the room. Different rooms call for different types of furniture.
For example, if you have a rustic or farmhouse theme then you may want to stick with that when shopping for furniture. Since it is a family space, sometimes it is nice to consider the input of everyone in the style of couches they like. Take everyone shopping and see if you can find something that everyone loves!
The two main things you'll want to consider when it comes to furniture style:
Color and Pattern: You will want to choose a color or pattern that will do well with kids and pets. Light colors may show all the marks and stains, but dark colors may fade over time. It's best to find something in the middle. You will also want a couch that will go well with the rest of the room's color.
Fabric: Did you know there are tons of different fabric choices out there? Especially if you have kids or pets or plan on snacking on these couches, fabric choice is super important! You want something soft yet easy to clean. Microfiber or cotton will be great options for durable yet comfortable fabric on your couches.
7. What's Already In The Room
This goes right along with style. Unless you are starting from scratch with an empty room, you will likely have other items in the den that will stay. In this case, before you purchase any couches, take time to map out your room and see how you will incorporate them.
This will save money in the long run by getting pieces that work together and don't clash. You will want to make sure you won't be over-filling the room. It's always better to have some extra room around your couches to be able to move around and get up easily.
8. Comfort And Versatility
This step sort of accumulates everything we've covered so far. If you are wanting a perfect family den, these two concepts must come together. Since this is likely going to be your most used room, your couches need to be durable. However, they also need to be something people want to spend time on.
To achieve this, you may need to be willing to invest in high-quality pieces. Some incredible sectionals on the market can be re-positioned, are stain-resistant, and are super comfortable. You want your couches to fulfill all your needs from movie nights, long chats, kids playground, game nights, and everything else!
Which Is Better for Couches: Leather Or Fabric?
While leather couches do tend to be more comfortable and durable, you also need to consider how often they will get used. Fabric is great for anyone who has kids or pets because of the durability factor.
However, fabric can be a bit more work to clean and maintain and needs some additional care and attention. Leather, on the other hand, is very low-maintenance but can be more expensive than fabric couches.
Sectionals or Sofas?
In most cases, sectionals offer more seating but less flexibility in placement. If you have a big family or are planning on spending movie nights with all your friends, then sectionals may be the best choice for you.
Sofas typically seat between 3-5 people depending on the size. Sofas are great options because they are versatile and can go well in most rooms! They are also great options for those who want to be able to fold out a bed within the sofa. Sofas are typically more comfortable than most sectionals because of how they are built and their overall compact size.
How Many Pillows & Blankets on Your Couch?
You can't have a cozy family den couch without the blankets and pillows! But how many do you need? Well, of course, it depends on your family's needs, however. 1 pillow and 2 small blankets for every 3 people is a good starting point!
Not everyone will use a pillow and a blanket every time so don't get carried away buying them. Another great idea is to just buy 2-3 oversized blankets that everyone can share!