How To Style Furniture On a Budget
I was so excited when we bought our first home a few years ago. I was ready to jump in and make it our own with all new decor and furnishing. That was until I realized how expensive furnishing can be. Not only that, but the whole design process can be pretty overwhelming! It was hard to figure out where to start and how to work it all within my budget. It took some time, but eventually, I discovered some ways to save money on furniture while still having the style of home I wanted.
I learned 6 major tips that helped me figure this whole thing out. Three years later, we have completely furnished our home and I love every room! Today, I want to share with you 6 ways you can get more furniture style while spending less:
Design Furniture Around a Neutral Color Scheme
Coordinate Your Accessories And Furniture
Make Furniture Pieces Your Own
Choose Simplicity Over Excess
Reuse, Repurpose and Recycle
Shop Online
I wish that I had found an easy guide like this when I started. These 6 tips have helped me so much, especially in rooms that I was not sure where to start. To make sure you can be prepared for your home design adventure, I'm going to dive into each of these tips. I will also share some other helpful tips for this process! After you understand each of these tips, it will be easy for you to master the art of furnishing for less.
Design Furniture Around a Neutral Color Scheme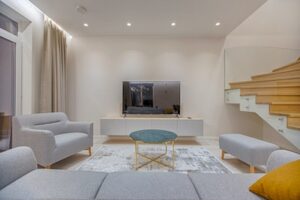 When furnishing a room, I like to start by choosing neutral colors for the walls and flooring. This allows me to include more color into the room with my furniture.
You can stick with a cool neutral palette such as grays and blacks, or go for a warm neutral palette of browns and whites. You can also choose to go with a monochromatic look of just different shades of the same color.
Just remember that the more colors you add into the room, such as pops of red or yellow, will add to your overall cost since you may need to buy multiple pieces to get the desired effect.
Coordinate Your Accessories And Furniture
While it is important to have a main solid color or theme for your living space, it is also crucial to remember that you need smaller accessories and furniture pieces to complete the look. Try keeping with the same colors as your main furniture pieces but in different shades, this will give your decor a more cohesive appearance.
Additionally, you can coordinate your accessories by using similar patterns. Instead of having random prints spread out across the room, choose one or two patterns to use throughout all accessory pieces (pillows, lamps, etc.).
Make Furniture Pieces Your Own
A great way to style your living space for less is by personalizing furniture pieces with your own design style. For example, you can take existing styles of furniture and make changes to give it an updated look, like swapping out the hardware or repainting it.
You can also get deals on furniture pieces with amazing "bones" but are maybe an outdated style. Take those steals and add in a DIY project, and voila, a stylish piece for your home!
Choose Simplicity Over Excess
Styling your home for less money means purchasing simple decoration items that will give the room an updated look without breaking the bank. It is also best to look for timeless pieces, instead of trendy ones.
Trends can come and go, but you will still be able to use timeless pieces for years to come. Think about investing in a few high-quality furniture pieces and accessories that will not only look great with your style today but for the future as well.
Reuse, Repurpose & Recycle
If you aren't scared of a little DIY work, you can save a lot of money on furniture design. Many of your old or unwanted furniture pieces can be reused or repurposed into something more functional like storage units for clothing, shoes, or blankets. When you are looking at different styles of furniture, think outside of the box and consider how you might use it for other purposes in the future.
And don't be afraid to talk with family/friends to see if they'd be interested in a furniture or decor swap! You never know what someone has that they don't like and you would love. Always try to sell your unwanted furniture before donating so you can use that money towards new furniture!
Shop Online
If you are looking for that unique furniture piece, look no further than online shops. These days, you can find couches, coffee tables, and pretty much anything else online and it will be shipped straight to your door. Oftentimes, you can get better prices online than in stores. You will also find more choices and more opportunities for affordable customizing options.
Don't forget to look for online coupon codes and subscribe to a few stores' newsletters to know right away about sales and deals. If you love an item that isn't on sale and doesn't appear to be low stock then it's worth it to wait for a sale!
What Else Can I Do To Save Money On Furniture Styling?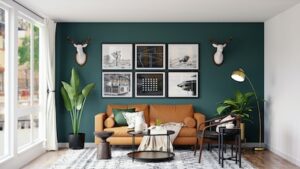 Always have a plan before you go shopping. Know what look you are trying to achieve and what pieces you will need. If you already have the main furniture pieces, it is much easier to make a shopping list for any accessories or accents.
Create a Pinterest board with your ideas before you go shopping. This will help to see your vision in its entirety!
Choose quality over quantity. Sometimes it isn't always the best choice to go with the cheapest option. While the cheap item may work right now, it's not going to last nearly as long (if you're lucky). It is most likely not going to be of good quality.
This will end up costing way more in the long run. When possible, go for higher-quality pieces that will be well worth your investment.
Find a look you love and repeat it. If you can find a design style that works for your home, try to use the same theme throughout all your furniture pieces. For example, if you love clean lines and mid-century modern style, carry this through with all of your pieces. This will create cohesion throughout your home and prevent you from wasting money on things you don't actually love.
Always keep receipts. This should actually be in the top 6 ways to save money on furniture styling. Save your receipts and make note of the store's return policy. You never know when you might need to take something back and without a receipt, it can be impossible.
Sometimes an item just doesn't look the same in your actual room as it did in the store. Thankfully most stores, especially if it's a local business, have great return policies but it is still important to be on top of it!
Where To Start When Styling A Room?
Maybe you are wondering how to even begin making your shopping list and which room to start with. I know, it's so overwhelming! It's best to just take it one step at a time and even just focus on one room at a time.
Start With the Main Pieces
The main furnishings in your home are usually considered the "focal point" or "statement piece". These are your couches, coffee tables, beds, dining room tables, and chairs, etc. Look for these items first to get an idea of what will work best when styling a space around them.
Create a Mood Board
A mood board is an inspiration board with pictures and words of things you love! Now what to do with the mood board? Pin your favorite images as well as any ideas for your room on it and leave it up as a constant reminder of what will work best. Sometimes we need extra inspiration or reminders and a mood board is there to provide it.
Do Your Main Rooms First
If you are working with a small budget or trying to focus your money on fewer rooms, try tackling your main ones first. This means the living room, dining room, and/or kitchen.
These are usually the areas where most of us spend our time and where guests will likely be. If you need to, use accessories or small things to fill out other rooms, but focus most of your budget on these rooms first.
Details Can Make a Statement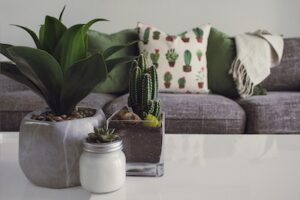 If you are feeling overwhelmed or really don't have much of a budget for all new furniture, try adding details instead. Accessories can be much more budget-friendly and just as stylish.
Add a new throw pillow or rug to spice up your living room or go for a new planter that will bring life to your entryway.
It's these little details that really complete the look and feel of a room so focus on those first, rather than brand new furniture. You never know, adding a few details may be just what your room needed.
Style Doesn't Have To Break The Bank
As you can see from this post, there are so many ways to save money on furniture by getting creative and focusing your money on the pieces and rooms that are most important. Save yourself some time, stress and money, with these helpful tips next time you start designing a room!