Top Five Entertainment Centers for Living Room
The living room is an integral part of any home, as they are typically the most spacious room in the house. This has made the living room, the room for any family or other sort of social gathering, as this is the place in the home where families and friends will gather around the television to watch shows, movies, and sports games and socialize. With this being the case in the U.S. and many other countries across the world, this has made the entertainment center a very important component of the living room and thus the home. However, entertainment centers are not important simply for the fact that people want to watch tv, but also because entertainment centers can be a great focal point for your living room, and can help to tie the room together. If you have a large television, placing it on an entertainment center can help to make the room feel more cohesive and put together.
Entertainment centers come in a variety of styles and sizes, so you can find one that fits your living room perfectly. This is one of the key reasons why entertainment centers are so integral to your living room. As they can make a big difference in the overall look and feel of your living room, they can be a great way to add storage space to your home, as many entertainment centers come equipped with cabinets and shelving units, and to keep all of your media equipment organized in one convenient location.
However, since entertainment centers can take up a fair amount of space, it's important to make sure you have enough room for one before making your purchase. This is what can make the task of finding the right entertainment center for your home and one that fulfills your needs a much more daunting task than you would think. However, when you find the right one, it is an excellent and practical thing for your home, as they provide a convenient and stylish way to keep all of your media equipment organized in one place.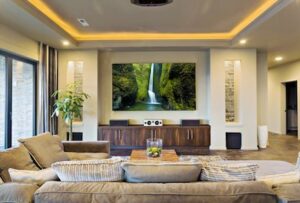 What's more perfect than an entertainment center that can hold all of your electronics and home décor? This two-shelf console is crafted from high-grade MDF with a durable laminate finish, making it richly textured. It will accommodate most flat-panel TVs up to 70 inches and you'll be able to store anything on these shelves: games, CD's, and DVD's of your favorite movies and TV shows. Another great feature is the cord management port at the back of the shelves, as it will keep all of your cords organized and not look like a tangled mess of wires! This Entertainment center will be a classic and staple in your home's living room. As it mixes the trendy rustic farmhouse look along with a traditional style with its simple design. So, display your TV in style with this Wren Classic 70-inch TV stand by Walker Edison.
Review:
This tv stand with mount worked out perfect. Yes, it was heavy. Yes, it took all afternoon to build, but I love it. Now my tv is a 65″ Samsung and look how well it looks mounted on the attached stand. The shelves below hold all of my components. The espresso color works well with our furniture. I would buy it again.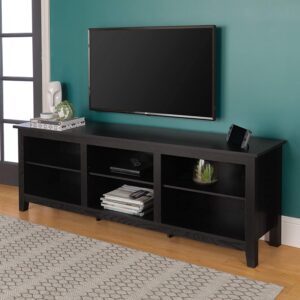 This Rockpoint entertainment center will elevate the style into your living room with its richly infused aesthetics! As this TV stand storage entertainment center will be the eye-catching focal point of your living room, all while being the ultimate storage console convenience. This entertainment center will be able to accommodate most flat-panel TVs up to 65 inches, and it will ship ready to assemble. 
Review:
Great tv stand. It came with each piece of wood and hardware plainly labeled. The predrilled holes were also accurate. The instructions were easy to follow. It looks simple and classy. Very sturdy. I also liked that the back panel is screwed in instead of nailed.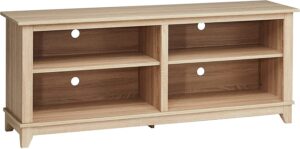 This beautiful entertainment center is perfect for storing all your favorite DVDs and games, as well! With a spacious tabletop that can hold up to 65-inch TVs or other large electronics like a game console with ease. Plus there's 2 tier shelf in the middle where you'll find plenty of room left over after filling it out nicely by stacking more items on top – no matter what they may be; speakers, remote controls, a vase, and more! A great part about this is that it can hold so much and you don't have to worry about it. This is because it is made out of high-quality particleboard and iron materials and this helps give it a high weight capacity. As the tabletop is capable of bearing up to 110 pounds, each of the central layers can hold up to 33 pounds, and each side-storage spot can hold up to 22 pounds. Additionally, this entertainment center has two X-shaped reinforced structures on the sides of the entertainment center to give it extra stability, thus making it very durable for long-time use. 
Review:
This unit was extremely easy to assemble within an hour. The back panels are a bit flimsy but not an issue if you don't break them. I'm giving it four stars because of the flimsy back panels and the color is more of a brownish tan than the gray as it's labeled.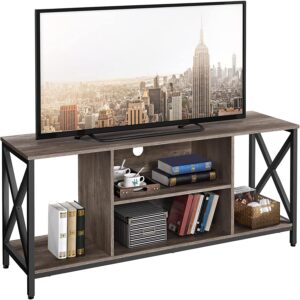 This AUXSOUL Farmhouse entertainment center has its inspiration from a barn door, thus giving a classic, rustic farmhouse style and look to your living room. This can be seen with the entertainment center's wood grain look and its 2 barn doors. What's neat about the 2 barn doors for the center compartments is that they roll on the metal tracks to open or close and this is a great way to display the decor that you want to display or to keep some of your stored media devices or other items hidden. The TV stand's frame construction ensures stability and weight-bearing capacity, as its tabletop and center shelf is able to hold up to 250 pounds and 20 pounds respectively. Additionally, the support feet in the middle of the entertainment center add stability to the tv console. The overall dimensions for this entertainment center are 58 inches wide, 15.5 inches deep, and 23.5 inches high. With this entertainment center being suitable for most televisions up to 65 inches, this is a great option for your living room. 
Review:
I love the farmhouse look and the sliding doors feature. It looks nice assembled, but there is room for improvement in the assembly instructions. The print is very light with fine lines; not easy to see the detail. A few of the pictorials are not clear as far as the orientation of the pieces. I did have to do some reassembly to correctly assemble, but it wasn't too bad. The pieces and hardware are clearly marked.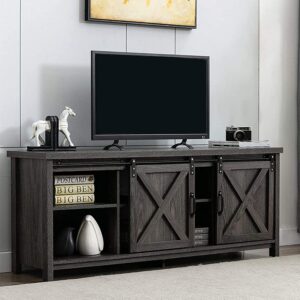 This Walker Edison Rustic Wood and Glass Fireplace entertainment center gives the living room that traditional feeling and that extra storage space you are wanting, along with a very cool and modern electric fireplace. This entertainment center has plenty of storage for your electronics, DVD's, books, and more, with its elegant, side cabinets' tempered safety glass shelving. However, the real centerpiece of this entertainment system is the electric fireplace. As it is great for when you're watching tv or when you're just kicking back and relaxing to some music. While you may have qualms about the difficulty to set this cool feature up, you don't have to worry. As it is just a simple plug-in unit and with just a flip of the switch, you can have an elegant log-burning display that will actually keep you warm! 
Review:
If you don't have a fireplace this is an awesome substitute. The color of the wood is great and looks good and was designed with decent wood. The fireplace allows for only light for those hot days where heat is not desired. Then for those cold nights, you can turn the heat and light on at the same time.