How to Restore a Faded Leather Couch: 7-Step Guide
Leather couches are durable, classic furniture pieces that will last for years to come with a little TLC. However, if you've had your leather couch for a while, you may notice that its original color has faded some. The good news is that there is something or a way how to restore a faded leather couch.
So, how do you restore a faded leather couch? You restore a faded leather couch by cleaning it and applying a leather conditioner. If your couch is severely faded or discolored, you can also apply a pigmented leather color restoration cream to restore its color.
When you start the process of restoring your leather couch, it's important to perform these steps in the right order so you don't accidentally discolor your couch further or damage it anew.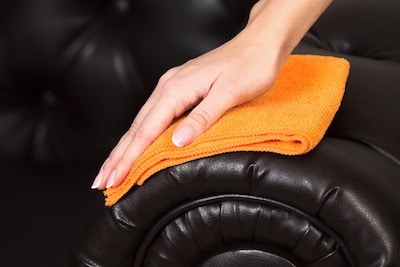 How to Restore a Faded Leather Couch: Step By Step Guide
When you need to restore a couch in your office or home, it's always a good idea to start by contacting your couch's manufacturer to find out what products you should use. If you can't get ahold of them, reach out to a furniture or upholstery store that specializes in leather furniture. These professionals will be able to help you find the right products and methods to restore your couch without unintentionally damaging the leather.
Once you do that, follow these steps to restore your faded leather couch:
1. Vacuum the couch
This is the first step of any couch project, as it removes any surface dirt and crumbs so that you don't accidentally scrub them deeper into the couch as you restore it. Remember to get in between and under your cushions as best you can as well.
2. Clean the couch with a damp cloth and/or leather cleaner
It's important to remove any dirt or grime that didn't come up with the vacuum, as this grime could prevent the leather conditioner from adhering properly. When choosing a leather cleaner, check with your couch's manufacturer to see which one they recommend, or simply stick with a damp microfiber cloth. Whichever method you choose, dry your couch with a clean microfiber cloth afterward.
3. Tackle any stains
If, after your couch has dried, you notice some spots or stains that didn't come up, it's time to take those on. Check with your couch manufacturer to see what spot cleaners they recommend, or just be sure you test your cleaning solution in an inconspicuous place first to make sure it won't damage or discolor your leather.
4. Apply a leather color restoration cream (optional)
If you're using a color restoration cream, make sure you have the right color by applying the cream to an inconspicuous part of the couch first. Once you're satisfied that your cream will work well, apply it to the whole couch as the instructions recommend, being sure to cover up any nearby flooring or furniture that you don't want to be dyed the same color as your couch. Let it dry completely.
5. Apply a leather conditioner
Once your couch has dried after the cleaning and leather color restoration cream (if used), it's time to condition your leather. This will help keep any dirt and grime from sticking to the surface in the future and also keep it soft and supple. Again, make sure you consult with your couch's manufacturer or a furniture store that specializes in leather furniture so you choose the right product.
6. Buff with a clean cloth
Once you've applied the conditioner, use a soft, clean cloth to buff the couch — this will help bring out the couch's natural shine.
7. Protect with a leather sealant, if desired
If you're looking to add an extra layer of protection, consider applying a leather sealant after cleaning, conditioning, and buffing your couch.
And that's it! If you've followed these steps correctly, your faded leather couch should be looking good as new. Just remember not to forget about regular maintenance and cleaning in the future so that you can keep it looking beautiful and pristine.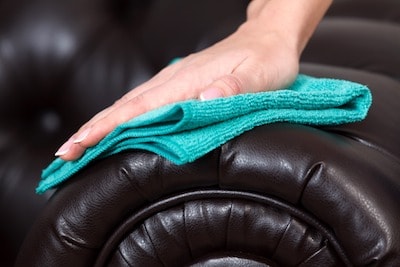 How to Prevent Your Leather Couch From Fading Again
Now that your leather couch is restored and looking like new, it's important to keep up with regular maintenance to prevent fading in the future. This includes:
Vacuuming regularly
Cleaning and drying spills immediately
Dusting the couch often
Applying a leather conditioner every two or three months (or as recommended)
Using a leather protector on the couch every few years
It will take a little bit of effort and regular maintenance, but by following these steps, you'll be able to get many years of enjoyment out of your restored leather couch.
The Difference Between Leather Color Restoration Cream and Leather Conditioner
The most important differences between a leather color restoration cream and a leather conditioner are their ingredients and purposes. A leather conditioner doesn't contain any dye or color, but it will help moisturize your leather, restore its suppleness, and protect it from further cracking or fading. As it does this, it can deepen the color of your leather couch as well, restoring its original color and beauty.
A leather color restoration cream, on the other hand, is designed to add color back to your couch leather. It usually has pigments and dyes in it that allow you to match the original shade of your leather couch or even change it if desired. However, this type of product isn't a long-term solution for faded leather, as it won't provide any of the benefits of a leather conditioner. Because of this, it's best used in combination with a conditioner for maximum effect.
By understanding the differences between these two products and following the steps above, you'll be able to restore your faded leather couch quickly and easily. With a little bit of effort and the right products, you'll be able to make your leather couch look like new again.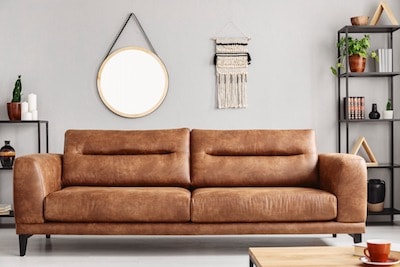 Related Questions
How do I clean my suede couch?
To clean your suede couch, start by vacuuming it to remove any dirt and debris. Then mix a solution of lukewarm water and gentle dish soap. Dip a soft cloth or brush into the solution and gently rub it onto the stained area in a circular motion. You can also use a suede cleaning brush or an eraser to help remove any tough stains. Once you've finished, blot the area with a clean cloth and then let it air dry. Do not use harsh chemicals such as vinegar or rubbing alcohol, as these can damage the fabric. You should also not use leather conditioners or color restoration creams on a suede couch. Instead, you can apply a suede protector spray to help repel water and stains.
Can I change the color of my leather couch?
Yes, it is possible to change the color of your leather couch. The best way to do this is with a leather dye or color restoration cream. Before applying any product, make sure to clean your couch and test the product on an inconspicuous area first. When applying the dye or restoration cream, be sure to use even strokes and follow the directions on the package carefully. Once you've finished, let the couch air dry and then apply a leather conditioner to keep it looking its best for as long as possible.