Top 5 Massage Chairs for Lower Back Pain
Lower back pain is a common issue that many people face. This pain can be caused by a variety of things, including poor posture, sitting for long periods of time, or lifting heavy objects. So, if you're suffering from lower back pain, a massage chair could be just what you are looking for in your home health needs. As they can reduce this pain by providing targeted pressure to the muscles in your back, massage chairs can help to loosen up the muscles, increase blood flow, and reduce inflammation. In addition, massage chairs can also help to increase circulation and reduce stress levels. All of these factors can contribute to reducing the amount of pain that you feel. However, there are plenty of massage chairs on the market, so it can be tricky to know which one to choose.
Here is a list of the top five massage chairs for lower back pain:
If you are looking for a way to reduce your lower back pain, then consider investing in a massage chair. Massage chairs are relatively affordable and can offer a wide range of benefits. If you're considering a massage chair, it's important to find one that offers the features and functions that will best meet your needs. Look for a chair with adjustable settings so you can customize the massage to your specific pain points. You'll also want to make sure the chair is comfortable and easy to use.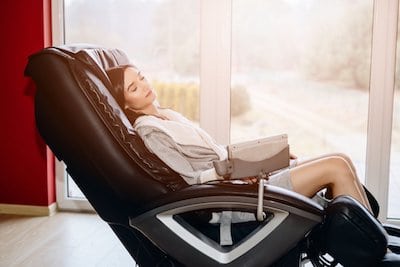 This 2nd generation body scan and L-track system from IntelliGhz is the longest in its class, letting you recline comfortably to any of seven different zero gravity positions. The intelligent scan technology automatically adjusts your depth for a customized massage that's just right no matter how tall or short we're talking about! The massage system includes 42 airbags that provide pressure Points located in various parts of your body. With heat therapy, you can manually adjust the intensity and speed for personalized relief! The Enhanced Foot Roller rolls forward or backward at 3 levels (low/medium-high) to soothe any area needing extra attention like the sole-heel region
Review:
This brown chair is awesome. Our whole family uses it just about daily, and we are all very tall (the tallest is 6'5). It is very easy to understand and has a lot of different programs you can follow. It seems sturdy and well-made. The only point is it is huge and heavy and a little hard to get into the house. Thankfully the Amazon delivery guys offered to help us take it out of the box, and the two of them plus my husband were able to get it into the living room. But once in the house, it is good to go- just plug it in.
5.0 out of 5 stars – We love this chair!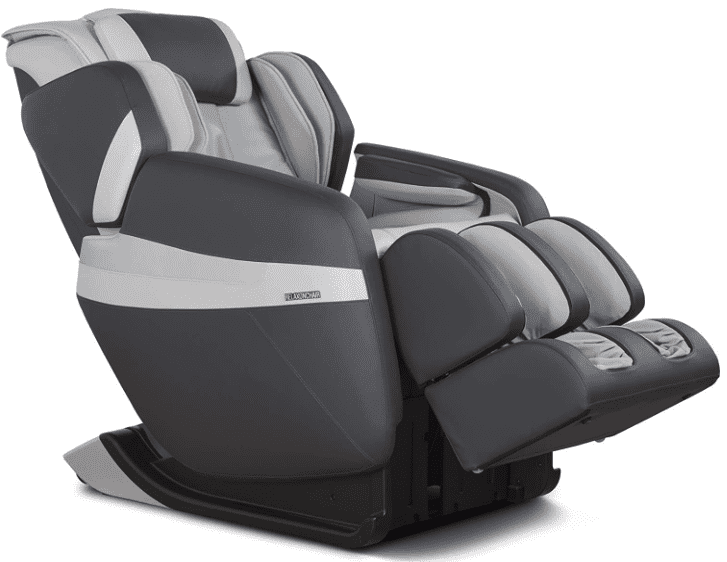 This is the best way to relax after a long day at work! With intelligent body scanning technology and their 2nd generation contoured L track system (50 inches), this chair is specially designed for your back as well as gliding smoothly over all areas including the lower skull down past the buttocks– currently considered one of longest on market today. It comes fully assembled so just plug it in then enjoy yourself right away with 3 stages of zero gravity positions.
The chair is designed to provide a human-like massage throughout the body and also stretch you out. With its spinal decompression function, it moves slowly while air cells press down on various parts of your back/pelvis area for deep tissue relief! The Beauty Hip Massager features two inflation options: either use all three bags at once as an upper hip & waistline compressional tool; or only inflate one side using 2 weak pumps per time minute until desired tension has been reached so that weight can shift off stressed joints without unnecessary strain being applied
Review:
This is probably one of the best sub $2k chairs I have used. I've owned this charcoal chair for 2.5yrs now and wanted to wait a while to review it to make sure it stood the test of time. My parents own an $8k one and the only thing I found better on that was the armrest adjusts with the chair when in adjusting, the motor/airbags are quieter, and the design is a bit more "modern" (looks like an egg). The 3D mapping works well on me (5'8″) and my wife (5'0″). 2.5 years later, I can easily say this was a great purchase that I have no regrets over.
5.0 out of 5 stars – Great affordable massage chair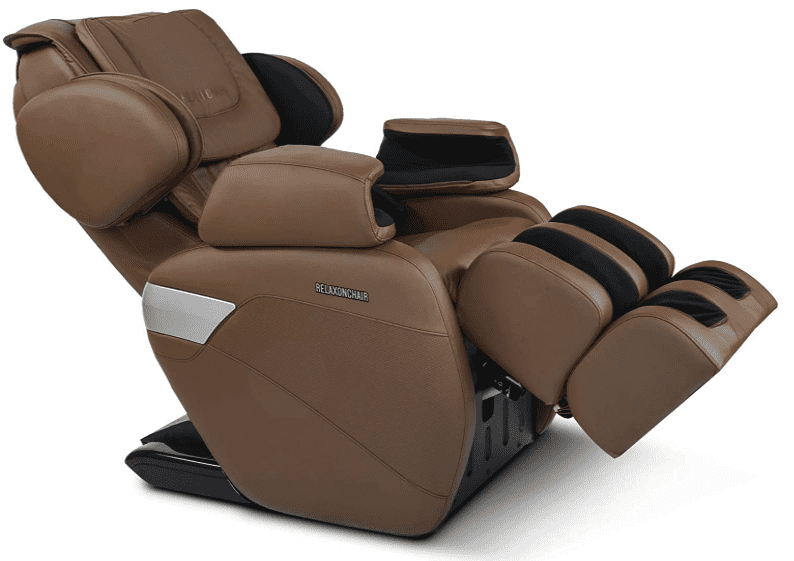 The 53.1″ SL Ergonomic Track is the perfect solution for those looking to sit in comfort and ease sore shoulders or neck while they watch their favorite show! This ergonomic desk not only has an arc design that appropriately fits your spine but also features 3D intelligent flexible manipulators3-9 inches deep which will penetrate into any texture so you can release tension from tight muscles without being too rough on them. The handle helps posts held up by little fingers stay engaged with how far forward/backward each arm goes making movement easy as well.
The Full-Body Three-Dimensional Airbag Wrap will stretch your stiff shoulders and arm muscles, while also reminding you of a Cupressus California massage. The calf air bag clamps down on sore insteps to relax them in no time at all! If it's been hard for a while now then this is just what ya need – some hot compress therapy with a constant temperature that'll make those tired backs feel like new again.
Review:
This is better than I thought it would be. Nice and sturdy and looks good/not cheap looking. I would definitely recommend!
5.0 out of 5 stars – Good Quality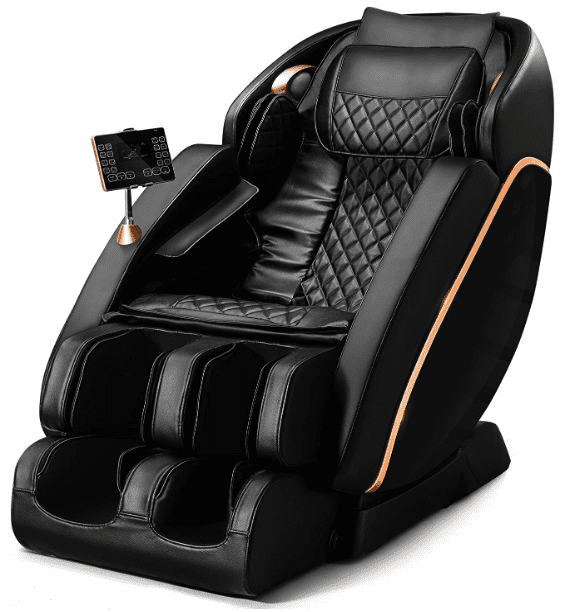 The finger pressing, kneading, and tapping techniques are combined with the AI voice control feature to make you completely relax in just one technique! Say "hi Alice" or press any button on your chair's handrail shortcut key panel for 3 seconds. This will turn off all other sounds while giving an amazing massage that won't leave anyone out unless they want it too – because there is no need at any time during these massages by themselves since we've got everything covered from the head-to top when using our own personal touch methodologies designed especially
Review:
This brown chair covers a large area. I flip up the thoracic padding for a deeper massage. BTW, I've read some decreased reviews about the robotic voice saying " I'm here". You can turn the auto command off on the armchair display.
5.0 out of 5 stars – Great Chair.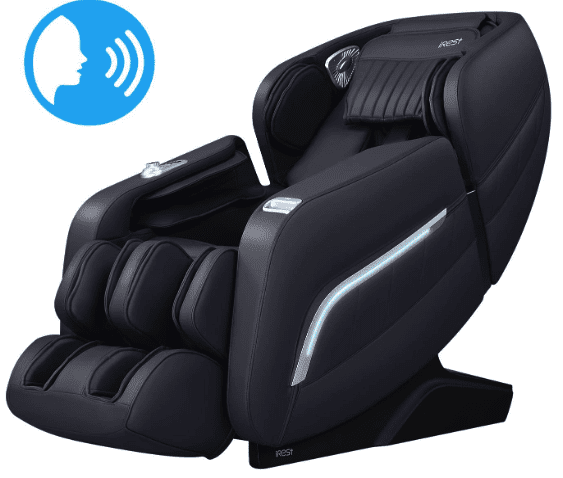 This massaging chair performs identically to its bigger, more ugly counterparts but with Design-Difference! The ONE sleek leather accent chair has an ottoman and is uniquely egg-shaped at 15 degrees recline. It weighs only 62lbs making it one of the lightest chairs out there (and perfect for traveling). You can also use this as a bed while watching TV or listening through Bluetooth speakers if you want something simple yet stylish in your bedroom
The N-0003 Classic Massage Chair is a perfect addition to any living room with its sleek design and luxurious feel. This massage chair includes 4 robust rollers that will tense all of your muscles from the head down, giving you an ultimate full-body experience in just one session! With airbags for comfort when desired effects are achieved or if something goes wrong during use it's easy enough to fix by pushing two buttons on either side so there's no need to worry about getting injured while using this bad boy as well because accidents can happen sometimes ya know.
Review:
This petite pale rose massage chair is better than expected. The massage feature is wonderful and the color is exactly as advertised. The chair pivots back when you put a little pressure on the ottoman and you can actually make it rock slightly….love that! It's perfect to sit in if you want a massage, but it is not a chair you would spend all day in. I am very happy with my decision to purchase this item. So far so good!!
Exactly what I was looking for!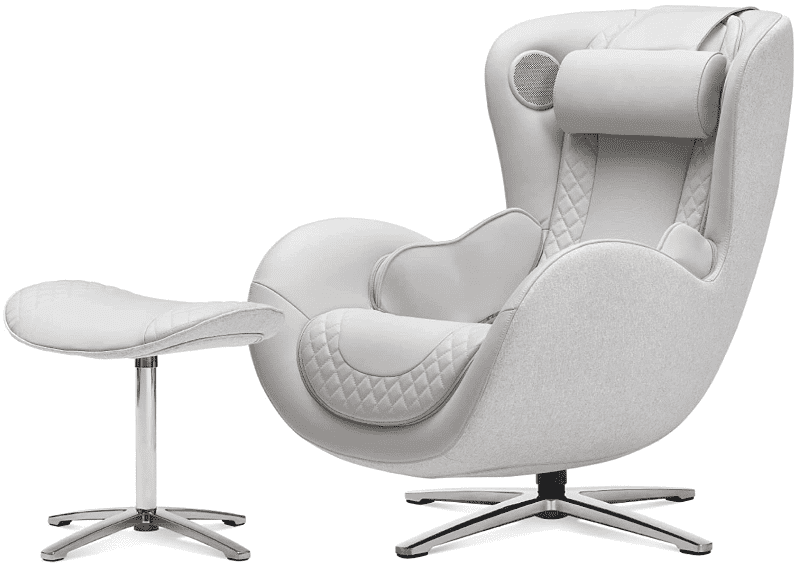 Conclusion
Massage chairs work by providing targeted pressure to the muscles in your back. This pressure can help to loosen up the muscles and reduce inflammation. In addition, massage chairs can also help to increase circulation and reduce stress levels. All of these factors can contribute to reducing the amount of pain that you feel. However, it can be hard to know where and how best to start your search with there being so many different options when you are looking for the perfect massage chair. So, hopefully, this list of our top massage chairs for lower back pain in the industry! You can't go wrong with any of these chairs, as they all work wonders! Thanks again for reading!