How To Repurpose Your Old Decorative Chairs For New Uses
Do you find yourself with a collection of old, decorative chairs gathering dust in your attic or basement? Instead of letting them continue to take up valuable space, consider repurposing them for new uses in your home. Choosing to repurpose old decorative chairs not only gives a fresh lease of life to these cherished pieces but also adds character and uniqueness to your living spaces. In this blog post, we will explore some creative and innovative ways to breathe new life into those old decorative chairs and transform them into functional and stylish elements for your home.
Transforming Old Chairs Into A New Look
If you have a creative eye and a heart for DIY then maybe one way to repurpose old decorative chairs is to give them a new look! Try painting or staining the hard surfaces a new color that fits your home better. You can also re-upholster the seat for a totally new look. Once your DIY project is finished, you can now repurpose old decorative chairs for new uses in the home such as in the dining room or back patio.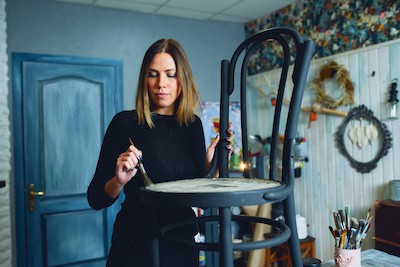 Convert Into A Chic Side Table
Old chairs with intricate designs and sturdy legs can be easily converted into stylish side tables or nightstands. By simply removing the backrest and the seat, you can create an attractive, one-of-a-kind side table that complements your living room or bedroom. To enhance its functionality, consider adding a glass or wooden tabletop to the chair's seat area, providing a flat surface for placing drinks, books, or other essentials. This would be a great place for a beautiful plant or your favorite art piece. 
Create a Vintage Coat Rack
Another way to repurpose old decorative chairs is to turn them into charming vintage-style coat racks. For this, you will need to take the chair apart completely so some carpenter skills are required. You can stack the legs together with wood glue, add a base, and then add your choice of knobs. If the chair had additional spindles or other wood features– use those for your hanging rods! With this idea, you can create a functional space for hanging coats, hats, bags, and scarves. This repurposed coat rack will not only declutter your entryway but also become an eye-catching statement piece.
Fashion a Rustic Bench
If you have multiple old chairs of the same style, consider transforming them into a rustic bench. In some cases, you will want to remove the backrests and arrange the chairs side by side, leaving enough space between each seat. Secure the chairs together using screws and reinforce the structure for stability. You can either leave the original seat cushions or get a new one that will cover all chairs. Finish off the bench with a fresh coat of paint or varnish, and you'll have a charming seating area for your entryway or garden. For chairs that have a more squared-off backrest, you can leave them on and still attach the chairs side-by-side for a truly unique piece of furniture.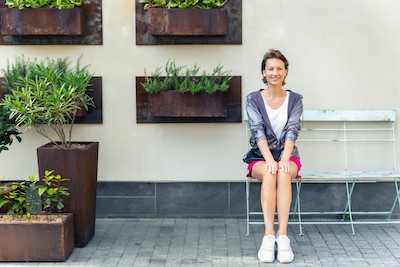 Craft a Kid's Rocking Chair
If you have a small decorative chair with legs that can be replaced with a rocking base, consider transforming it into a delightful kid's rocking chair. Sand down any rough edges, add a fresh coat of bright-colored non-toxic paint, and attach soft cushions for extra comfort. This repurposed chair will make a wonderful addition to a child's nursery or playroom.
Repurpose Old Decorative Chairs Into A Writing Desk
Similar to the bench, if you have 2-3 chairs that are the same- consider making a writing desk. This works best if the chairs are taller and the seats can be removed easily. First, you will line up the chairs and remove all legs except for the outer ones. It is up to you to remove the backrests or not. Then you will remove the seats and attach the chairs with bolts and glue. Then attach a solid wood surface to the top. Finally, sand and re-stain or paint the entire piece to your liking!
Benefits of Repurposing Old Decorative Chairs For New Uses In The Home
Repurposing old chairs in your home offers numerous benefits, making it a practical and rewarding choice. Here are some advantages of repurposing old chairs:
Cost-Effective. Repurposing old chairs is often more budget-friendly than buying new furniture. It allows you to save money while still enhancing your home's decor.

Sustainability. By repurposing old chairs, you reduce waste and promote sustainability. It's an eco-friendly practice that helps minimize the environmental impact of furniture production and disposal.
Unique and Personalized Decor. Repurposed chairs add character and uniqueness to your home. Each piece becomes a one-of-a-kind item, reflecting your creativity and personal style.
Preserving Sentimental Value. If you have old chairs with sentimental value, repurposing them allows you to keep a part of your family history alive while incorporating them into your modern decor..
Enhanced Functionality. Repurposing chairs can give them new life and functionality. You can turn them into shelves, side tables, or plant stands, adding practicality to their aesthetic appeal.
Customization Options. When repurposing chairs, you have the freedom to customize them to suit your needs and preferences. You can choose the color, finish, and design that complements your home decor.
Reduced Clutter. Instead of storing old chairs unused in attics or basements, repurposing them allows you to declutter your living spaces and make better use of your home's available space.
Satisfying DIY Project. Repurposing old chairs can be a fun and satisfying DIY project. It offers a sense of accomplishment and creativity as you transform old furniture into functional and decorative pieces.
Contribution to Personal Growth. Engaging in repurposing projects can boost your problem-solving skills, encourage creative thinking, and help you develop a deeper appreciation for sustainable living practices.
Support for Local Businesses. If you purchase materials or supplies for your repurposing projects from local shops or artisans, you contribute to supporting local businesses and craftsmen.
Inspiration for Others. Sharing your repurposing projects with friends and family can inspire them to take up similar projects, fostering a culture of sustainability and creativity.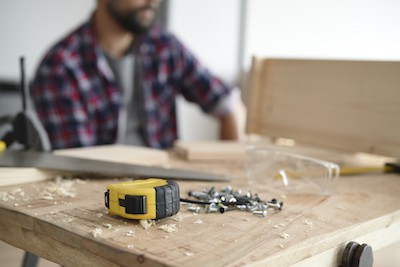 Conclusion
Repurposing old decorative chairs for new uses in your home offers a fantastic way to combine creativity, sustainability, and functionality. From transforming chairs into shelves, side tables, and plant stands to creating vintage coat racks, rustic benches, functional desks, and kid's rocking chairs, the possibilities are endless. So, before you decide to discard those beloved old chairs, explore these innovative ideas to give them a new lease on life and turn them into remarkable pieces that elevate your home's style and ambiance. Remember, safety is crucial when undertaking DIY projects. Always follow proper safety guidelines, wear appropriate protective gear, and start with projects that match your skill level. As you gain experience and knowledge, you can tackle more challenging and rewarding DIY endeavors. Happy learning and creating!
Related Questions
Where can I learn how to repurpose old decorative chairs?
There are many free resources to learn about repurposing old chairs such as YouTube, your local library, and creator websites. You can also see if your community hosts workshops or college classes if you want to get serious about it. 
What else can a repurpose for new uses in my home?
The possibilities are endless! You can repurpose old jars, suitcases, shelves, picture frames, bottles, books, and even tires. 
Can I sell my old decorative chairs?
If you don't feel capable or in the mood to repurpose your old chairs- consider selling them before simply sending them to the landfill. Many people love old vintage chairs and would be happy to take them off your hands. In addition, you may have a chair that is rare or hard to find so you could make a decent profit.