Top Five Mid-Century Modern Tufted Fabric Sofa
Mid-century modern tufted fabric sofas are a type of sofa that combines the best of both worlds: the comfort of a tufted sofa with the stylish look of a mid-century modern sofa. These sofas are perfect for anyone who wants to add a touch of luxury to their home.
You may be wondering what is a tufted sofa and what makes this style mid-century modern. Well, these tufted sofas have a long history dating back to the Victorian era. As tufting is a method of upholstery that involves attaching fabric to a piece of furniture using buttons or tufts. While this method was popularized in the Victorian era, it is still used today due to its well-known luxurious look and feel. There are many reasons why mid-century modern tufted fabric sofas are a popular choice for many people. A couple of reasons are that they offer the comfort of a tufted sofa, all while having the stylish look of a mid-century modern sofa. Another reason for its popularity is that they are a great choice for anyone who wants to add a touch of luxury to their home.
So, if you are looking for a sofa that is both comfortable and stylish, then a mid-century modern tufted fabric sofa may be the perfect choice for you. However, with all of the options that are available with these popular sofas, it can be a daunting task to find the right one for you and your home. So, I did the work for you with this list of the top five mid-century modern tufted fabric sofas, so that you can easily make the best decision for you and your home.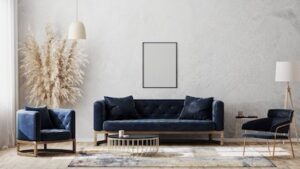 This mid-century modern tufted fabric sofa was one of the first picks to come into my mind when compiling this list, as it would be a wonderful addition to any room in your home. As Christopher Knight Home's 305141 Aidan model sofa comes in a wonderful blue color with contrasting birch wood sides and legs in an elegant dark walnut finish for a true Mid-century feel. With both style and comfort, with its button-tufted seat and back for both style and firmness, along with its extra-plush cushioning, you can't go wrong with this sofa. When getting into the finer details, this blue-colored sofa primarily consists of fabric material, while the legs of the sofa are made of birch wood in an elegant dark walnut finish. The sofa's dimensions are 30.50 inches deep,  72.25 inches wide, and sits 32.25 inches high. While the seat dimensions are 21.75 inches deep, 69.25 inches wide, and 17.75 inches high.
Review:
This sofa is a great addition to any living space. It's stylish and comfortable, with the added bonus of being supportive for people who suffer from back problems! The fabric isn't too soft or firm – just right in our opinion so you can enjoy lounging without discomfort after sitting on this beauty all day long (or at least until your friends start asking what kind of expensive furniture they need). As other reviewers have noted; these sofas don't come off as easily when buttoned up properly which makes them super easy to assemble too.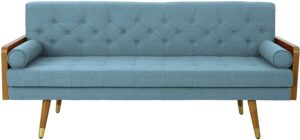 Modway focuses on producing high-quality products, and the mid-century sofa couch is no exception. As you can embolden your living room décor with Modway's Adept Performance Velvet Sofa. This sofa features a blend of contemporary, chic sophistication, and mid-century modern design. Adept's broad profile, deep seating, and generous tufting make it a great choice for those looking to add some class to their home. The stain-resistant performance velvet polyester upholstery will keep your evenings clean with its durable design that also provides comfort throughout the day or night! With subtle metal accents added in places like on armrests which give this sofa an elegant touch without being too overbearing about itself. Adept is an excellent addition to your home or apartment and because of its plush comfort and the fact that it's made for everyday use, you'll be able to enjoy every moment spent sitting down, whether it's when you're lounging with family or friends, or when home alone watching your favorite show! Other key details about this sofa are that it is 36.5 inches deep, 90 inches wide, and 28.5 inches high and it has a weight capacity is 1322 (lbs) pounds.
Review:
This couch is perfect for any person who wants to sit cross-legged or lay down and watch TV. The velvet fabric makes it easy on your skin, while also being removable if you want a clean look all year round!

The Engage sofa is a welcoming, comfortable presence in your home. Elegant tufting and eye-catching appeal make it impossible to resist when you enter any room – especially those with friends or coffee! The four cherry color rubber wood legs provide an elegant base for this inviting piece while providing a solid foundation from which the upholstery can shine brightly on center stage thanks to its luxurious material that's been crafted by skilled artisans just like them: producers who care deeply about quality craftsmanship so they could share their love right back at us through every stitch of fabric used here.
Review:
This couch is a great buy! I received it three weeks ago and am still happy with my purchase. The color of the cushions is more towards teal than blue, which makes finding pictures online difficult for this shade- but don't worry because there's plenty that shows up as light shades anyway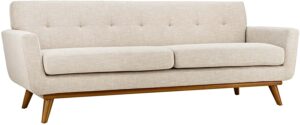 Esright's mid-century sofa couch is a great option for those who want a good quality, nicer-looking sofa, all while being more value-oriented. This one has an upgraded solid wood frame with velvet fabric for extra comfort–it's great either as your main piece or to fill up those empty spots in between other furniture! The unique design will work well anywhere you put it because this lounger suits all types of living spaces: from reading sessions at home to naps during vacations away.
Review:
Wow! I am so impressed with this couch. It's beautiful and comfortable, yet firm enough for my taste- can't believe how little it cost me too!! The quality of the product exceeded all expectations – have had them almost two months now (and still loving every minute)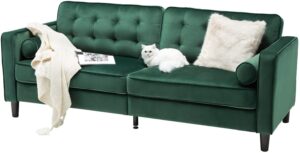 This Danxee sofa couch is upholstered in velvet fabric and is a great addition to your home or apartment with its ultimate infused display of mid-century design and modern, refined swagger. As the curves of this sofa are typical for the style, with tufting adding to its retro charm. Sinuous spring suspension and thick fiber-wrapped foam core cushions provide comfort that will keep you coming back again and again! This mid-century modern velvet sofa is a cozy stunner with its 6 glamorous gold polished stainless steel legs. The internal frame of this durable design has been constructed from Hard Wood, making it solid and dependable for years to come! Not only that, but it also includes 2 decorative pillows in the matching fabric, as well as the installation manual for easy assembly! Other additional facts about this Danxee sofa are that is 71 inches in length, 31.5 inches wide, and 31.5 inches high and it has a maximum weight capacity of 700 (lbs) pounds, thus making it a great addition to a small space or studio apartment.
Review:
This couch is absolutely stunning. The green color of the fabric matches perfectly with my living room décor and it's so comfortable to sit on! It came earlier than expected, which was a huge plus for me because we had planned on getting another one soon anyway but now I don't need any more convincing (I'm already sold)