Top Five Leather Recoloring
There are a few ways leather furniture can get messed up, as, over time, leather can become faded or discolored from sun exposure, dirt, and stains. Regardless of the cause, leather is delicate and difficult to clean if one of these things was to happen to your leather furniture. If you have leather furniture, it's important to be careful with it and to clean it regularly to keep it looking its best. Leather furniture can last for many years if it's well-cared for and because leather furniture can also be repaired if it becomes damaged, it is why it is so important and worth taking the time to make sure that you are taking care of and cleaning your leather furniture as best as you can.
If you have some leather furniture that is in need of a refresh, you should consider leather recoloring. As it's an easy process that can make a big difference in the look of your leather goods by helping to restore the original color of your leather furniture. Leather recoloring can help to cover up blemishes such as sun exposure, dirt, and stains and thus gives your leather goods a new lease on life.
Leather recoloring kits usually come with everything needed to recolor leather, including leather dye, leather conditioner, and applicators, and instructions on how to use the chosen kit. However, with the vast leather recoloring and cleaning kits available, it can be a daunting task to pick the right one for you. That's why we looked into these and found all of the best options so you can easily make the best decision.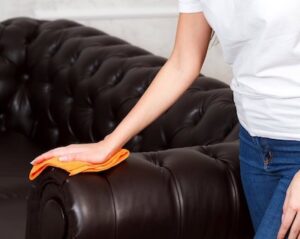 This product was evaluated by expert scientists and engineers and it has been granted the prestigious Good Housekeeping seal. This product includes the 17 fl. oz. Leather Cleaner, a $17.95 value, the 17 fl. oz. Leather Protection Cream, a $19.95 value, an 8.5 fl. oz. Leather Re-Coloring Balm, a $29.95 value, and a sponge and cloth, all for just $47.45. The Furniture Clinic's Leather Cleaner, removes the dirt and grime that are deeply engrained in your leather and ensures that it is clean and stain-free for the second half of our efficient process: the Leather-Recoloring Balm. Then, if you're serious about protecting your leather, the leather conditioner and protection cream, is a must-have product, as it will provide protection from water damage so you can feel confident about your furniture. However, we recommend that you test your furniture's ability to absorb liquids before purchasing this product. In order to test your furniture, you need to apply a small drop of water onto an intact section of your leather, and see if the water soaks in. While restoring your leather furniture can seem like a difficult task, we believe that with this two-part kit, you'll be able to keep your leather safe from being dirty or stained again.  
Review:
The chairs are in great shape now that I found this product. They were really bad when we bought them 13 years ago, but after just one coat everything looks fresh!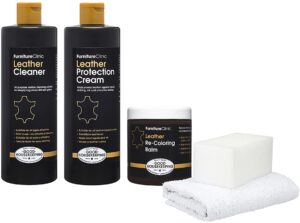 This leather recoloring and conditioner set by Fortivo is an amazing product. As this set has everything you need to bring leather surfaces back to their former glory with its leather recoloring balm and leather repair kit for furniture. As each and every polish leather color restorer comes with mink oil to lubricate tough fibers and make them last longer in your furniture's leather. While the leather conditioner for furniture will help keep your sofa looking new with its anti-scratch properties. It's also the perfect solution if you want to remove stubborn scuff marks from couches or other items made of real animal skin! The dye kit corrects colors while repairing the damage done by everyday wear and tear so that they stay vibrant longer than ever before – no matter how often it happens. While the recoloring balm product eliminates stains, wearing, peeling, and other imperfections from your leather furniture. So, why let your leather items' color and vibrant appearance fade when you've got this leather seat conditioner and leather repair kit? Try these quick and easy-to-use products on your faux and authentic leather items in order to give them a renewed, finished look.
Reviews:
I wish I had taken before and after photos, but I didn't. I used the dark brown to rejuvenate some bar stools that had faded over time. I had tried a couple of self-fixes before I bought this, but nothing worked. The color of the leather was still blotchy. This product was amazing. The color is now a rich brown and absolutely looks like new! I would urge you to give it a try!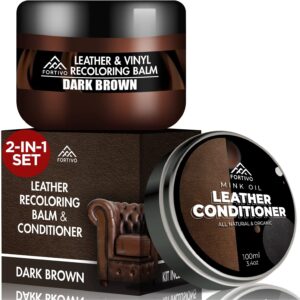 WHY CLYDE'S? Unlike most leather recoloring dyes and balms, which contain toxic and harmful ingredients, Clyde's Leather Recoloring balm was engineered with the company's ClydeColor technology, which recolors leather while simultaneously improving its lifespan tenfold. Clyde's balm does this by restoring the leather's natural color and filling in the old scratches, and this can be used on any leather surface, including your couches, car seats, and more. This product is so easy to use, as all you have to do is first clean your furniture and figure out what kind of leather you have, and then all you have to do is prep your furniture for the recoloring balm by using its deglazing solution, apply the balm, and then finish the furniture with the leather conditioner! Another great aspect of this product is that it has a lifetime guarantee, so if you don't love this product and the quality of its results, you can just fill out a form at any point in time and get your refund.
Review:
A heavy-duty commercial glue was inadvertently smeared on a portion of my leather steering wheel. Either the glue or the process of removing it made the leather rough and severely discolored over about a 4-inch length of the steering wheel. I used the Clyde's recoloring leather balm, dark gray, and it did a perfect job. The damaged section of the steering wheel literally looks like new.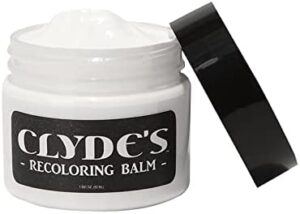 Furniture Clinic's Leather Recoloring Balm is a great product for restoring color to faded and scratched leather. This product comes in 16 color choices, so it is very easy to pick the right color to fix your leather couches, leather upholstery, or any genuine leather products. Another reason why this product is so great is that it is a versatile product that can be used to repair leather color on leather couches and other leather products. As it can be used to restore color or fix scratches to your faded sofas and other types of furniture or even on your leather car seats. With the product having been evaluated by the expert scientists and engineers at the Good Housekeeping Institute and then being given the seal of their approval. You know it has to be a great product. However, if you're not sold yet, other great aspects of it are that it is over 50% bigger than other competing products and the FurnitureClinic company offers a money-back guarantee if you buy it and you're not satisfied with the results.
Review:
Skeptical at first with all these types of products but was pleasantly surprised. Scratches on seat cushions of sofa either from dog or fittings on clothing. Two good coats later and marks invisible unless you knew to look for them. No color bleeds onto clothing and lasting color. Good product.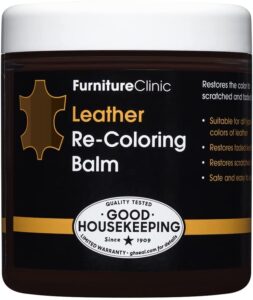 Fortivo's leather and vinyl recoloring balm is a great product to restore the color of your furniture, whether it be vinyl or leather. This dark brown leather recoloring balm shines at its best when refurbishing armrests and leather upholstery to protect them from recoloring, deformity, and unappealing scratches. It can also be used to repair and shield the leather on your couch from direct exposure of sunlight all while bringing out their natural shine and luster. While the dark brown vinyl repair kit does a great job at protecting and restoring your vinyl items, it also can be used to provide UV protection to your car and boat seats. So, all in all, this new leather repair kit from Fortivo is a great way to have cleaner and blemish-free leather seats and furniture without worrying about the scratches or cracks they might get over time, as you will be able to preserve your leather furniture and items' color and supple texture with this great product. 
Review:
This product is awesome…I used it for scratches on leather furniture by my cat. There is one major tip…use it sparingly. I used the brush for some individual scratches and I had a larger area on a chair in which I dampened the sponge…dipped it in the product and dabbed it on a paper towel before applying to the leather. Worked like a charm