Adding the Best Decorative Chair to Your Room
Creating a cozy corner in your bedroom is a delightful way to add warmth and character to your space. Whether you're an avid reader, a daydreamer, or simply seeking a tranquil spot to unwind, the best decorative chairs can make all the difference.
In this article, we'll explore a range of stylish and comfortable chairs that are perfect for curating that inviting nook you've always wanted.
The Best Decorative Chairs for Your Bedroom
When it comes to selecting the best decorative chairs for your cozy bedroom corner, you want a balance between comfort, style, and functionality. Let's dive into the options that can turn a corner into your personal haven.
Accentuate with an Armchair
An armchair can be the centerpiece of your cozy corner. Lush upholstery and plush cushions, paired with ornate details, can instantly elevate your bedroom's ambiance. Consider a classic wingback chair for timeless elegance or a contemporary swivel armchair for a modern twist.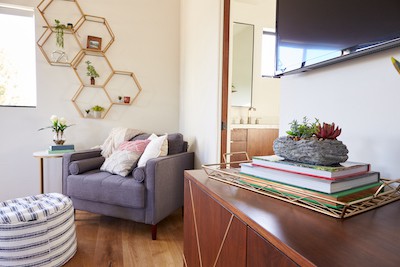 Embrace Elegance with a Chaise Lounge
A chaise lounge adds an air of luxury and sophistication to your bedroom. Its elongated design invites you to stretch out and unwind while creating a focal point that exudes opulence.
Boho Chic Hammock Chair
Inject a touch of bohemian charm with a hammock chair. Suspend it in a corner for a whimsical and relaxing hideaway. The gentle sway adds a sense of calm, while the intricate design complements various decor styles.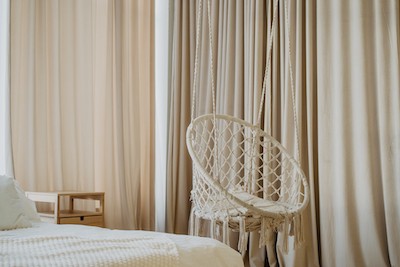 Cozy Corner with a Comfy Recliner
For the ultimate comfort, a recliner is a fantastic choice. Sink into its plush cushions, recline back, and enjoy a book or your favorite movie.
Minimalistic Bliss: Floor Cushions
If you prefer a low-profile setup, opt for oversized floor cushions. These cushions not only offer a comfortable seating option but also exude a zen-like minimalism.
Swing Chair: Playful and Relaxing
Add an element of playfulness with a hanging swing chair. Install it near a window for a relaxing spot where you can soak in natural light and gentle breezes.
Vintage Charm with a Rocking Chair
A rocking chair can infuse vintage charm into your cozy corner. The soothing rocking motion can help you unwind after a long day, and its timeless appeal is hard to resist.
Ergonomic Delight: Bean Bag Chair
For a fun and ergonomic seating solution, consider a bean bag chair. It molds to your body, providing personalized comfort while adding a casual vibe to your corner.
Bask in Luxury with a Velvet Chair
A velvet chair screams luxury and comfort. Its soft texture and rich hues create an inviting atmosphere that's perfect for your bedroom retreat.
Nature-Inspired Wicker Chair
Bring the outdoors in with a wicker chair. Its natural aesthetic adds warmth to your corner while providing a cozy seat for moments of relaxation.
Reading Nook Essential: Oversized Armchair
If you're an avid reader, an oversized armchair is a must-have. Snuggle up with your favorite book and a cup of tea for hours of blissful reading.
Eames Lounge Chair: Iconic Comfort
The Eames Lounge Chair is an icon of modern design. Its ergonomic design and combination of wood and leather offer unparalleled comfort and style.
Timeless Appeal of a Bergère Chair
The Bergère chair's graceful curves and exposed wooden frame bring an air of elegance to your cozy corner. Its cushioned seat and backrest make it an inviting choice.
Mix and Match: Eclectic Seating
For a unique and eclectic corner, mix and match different chairs. Combine colors, styles, and textures to create a personalized and visually appealing space.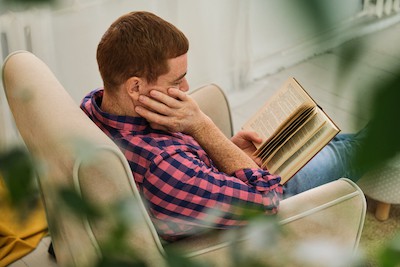 How to Add a Cozy Corner to Your Room Without a Chair
Creating a cozy corner in your room doesn't always require a chair. There are numerous creative ways to design a comfortable and inviting space without relying on traditional seating options. Whether you have limited space or simply want to try something different, here are some innovative ideas to consider:
Floor Pillows and Cushions
Transform your corner into a cozy seating area by using plush floor pillows and cushions. Arrange them against the wall or in a corner, creating a relaxed and informal space to unwind. Layering them with soft throws adds an extra touch of comfort.
Decorative Blankets and Throws
Drape luxurious blankets and throws over a padded bench, a stack of cushions, or even directly on the floor. This arrangement not only adds a cozy touch but also introduces texture and warmth to your corner.
Ottoman or Pouf
Opt for an ottoman or pouf as a versatile and stylish alternative to a traditional chair. These compact and soft furnishings can serve as footrests, additional seating, or even makeshift tables for your books and beverages.
Window Bench
If your room features a window with a broad sill, it's an excellent opportunity to create a cozy seating nook. Add plush cushions, pillows, and perhaps a small rug to make the most of the natural light while enjoying your snug corner.
Stacked Cushions or Pillows
Experiment with different sizes of cushions or pillows and stack them in your corner. This can create a relaxed and casual seating arrangement that's perfect for lounging.
Bookshelf Nook
Transform your corner into a reading nook by installing a small bookshelf. Arrange your favorite books, cozy cushions, and soft lighting to create an inviting space for literary adventures.
Remember, the key to a cozy corner is to make it uniquely yours. Play with colors, textures, and arrangements to find the perfect combination that suits your style and comfort preferences. With a little creativity, you can create a warm and inviting corner that doesn't require a traditional chair.
Conclusion
Creating a cozy corner in your bedroom is all about blending comfort, style, and functionality. The right decorative chair can transform an ordinary space into a haven of relaxation and inspiration. From classic armchairs to boho hammock chairs, there's a chair to suit every taste and preference.
Explore these options, consider your personal style, and curate a corner that reflects your unique personality and brings you endless comfort. So, go ahead and pick the best decorative chair that resonates with you and transform your bedroom into the cozy sanctuary you deserve.
FAQs
How do I choose the best decorative chairs for my bedroom corner?
Consider your space, style preferences, and how you intend to use the corner. Whether it's reading, relaxation, or simply adding aesthetic value, the chair should align with your needs.
Can I use an outdoor chair for my bedroom corner?
Yes, some outdoor chairs can work indoors as the best decorative chair for your space. However, ensure the material and design match your bedroom's decor and ambiance.
What's the ideal placement for a cozy corner chair?
Place the decorative chair near a window to maximize natural light. Alternatively, position it in a quiet corner where you can enjoy privacy and tranquility.
How can I enhance the comfort of my cozy corner?
Add soft cushions, throws, and a small side table for your essentials. Personalize the space with your favorite books, plants, or decorative elements.
Are there chairs suitable for small bedrooms?
Absolutely. Look for space-saving designs like armless chairs, compact armchairs, or hanging chairs that won't overwhelm the room.
Can I use a bench instead of a chair for my cozy corner?
Yes, a bench can work well. Choose one with a comfortable cushion and backrest for optimal comfort.