Ideas For Rustic-Themed Chairs In Farmhouse-Style Decor
Farmhouse-style decor has gained immense popularity in recent years, embracing the charm of rustic aesthetics and creating a warm, inviting ambiance. The key to achieving this look is selecting the right furniture pieces, with decorative chairs playing a crucial role. In this article, we will explore the top rustic-themed decorative chairs that perfectly complement a farmhouse-style decor. From reclaimed wood to distressed finishes, these chairs bring a touch of nostalgia and authenticity to any space, making them ideal for those seeking a cozy and welcoming atmosphere.
The Classic Windsor Chair
When it comes to farmhouse-style decor, the classic Windsor chair stands tall as an iconic and timeless choice. With its spindle backrest and solid wooden construction, this chair exudes rustic elegance. Traditionally made from various types of wood like oak, maple, or pine, the Windsor chair's charm lies in its simplicity and versatility. Whether you opt for a natural wood finish or paint it in a distressed hue, the Windsor chair brings a nostalgic and rustic appeal to any farmhouse-style dining room or kitchen.
The Reclaimed Barnwood Chair
Nothing embodies the essence of rustic decor quite like the reclaimed barn wood chair. Crafted from weathered wood salvaged from old barns or farmhouses, these chairs are a beautiful testament to sustainable design. The imperfections and natural patina of the wood add character, while the sturdy construction ensures both durability and charm. Incorporating reclaimed barnwood chairs into your farmhouse-style decor not only enhances the rustic vibe but also promotes eco-friendly and responsible decorating.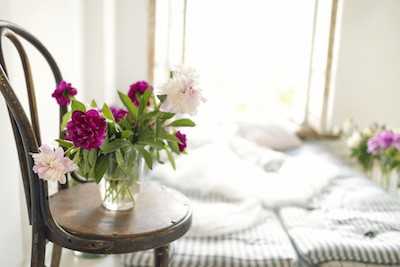 The Distressed Metal Bistro Chair
For a touch of industrial rustic charm, consider the distressed metal bistro chair. These chairs feature a combination of metal and vintage-inspired design, making them a perfect fit for farmhouse-style spaces with an urban edge. Their sturdy metal frame and distressed finish create a weathered look that pairs well with rustic wooden tables and other farmhouse decor elements. Whether used indoors or outdoors, the distressed metal bistro chair infuses your farmhouse-style decor with a touch of rugged elegance.
The Woven Rattan Armchair
Bringing a rustic bohemian flair to your farmhouse-style decor, the woven rattan armchair adds texture and warmth to any space. Its natural and organic appeal complements the wooden accents found in farmhouse decor. The rattan's intricately woven pattern and the cozy cushioned seat make this chair both stylish and comfortable. Placed in a reading nook or alongside a farmhouse coffee table, the woven rattan armchair enhances the inviting and laid-back atmosphere of your home.
The Farmhouse Rocking Chair
No farmhouse-style decor is complete without a classic rocking chair. These timeless pieces of furniture exude a sense of relaxation and comfort. Crafted from solid wood with spindle details, the farmhouse rocking chair evokes a nostalgic charm reminiscent of simpler times. Set it on your farmhouse porch or in a cozy corner of your living room, and you have a perfect spot to unwind and enjoy the serenity of your rustic-themed sanctuary.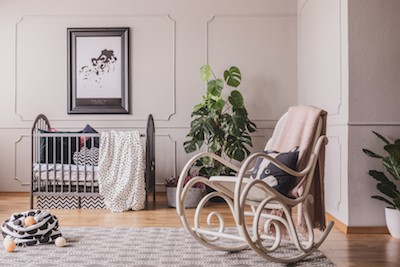 The Upholstered Farmhouse Chair
For those seeking the perfect balance between rustic and elegant, the upholstered farmhouse chair is an ideal choice. Combining the charm of rustic design with the sophistication of upholstery, this chair offers both style and comfort. The wooden frame retains the rustic aesthetic, while the upholstered seat and back provide a touch of luxury. Choose fabrics in earthy tones or muted patterns to complement the overall farmhouse-style decor.
The Slatted Back Side Chair
A staple in farmhouse-style dining rooms, the slatted backside chair brings a mix of simplicity and rustic allure to the table. Featuring a sturdy wooden frame and a slatted backrest, these chairs offer a timeless design that seamlessly fits into any farmhouse setting. Opt for a distressed finish or leave the wood in its natural state to emphasize the rustic vibe. Arrange them around a farmhouse dining table to create a warm and inviting space for family and friends to gather.
What are the key elements of farmhouse-style decor?
Farmhouse-style decor embraces a rustic and nostalgic aesthetic that creates a warm and inviting ambiance. The key elements of this style include:
Reclaimed Wood: Incorporating reclaimed wood in furniture, flooring, and accents is a hallmark of farmhouse decor. Weathered and aged wood adds character and authenticity to the space.
Neutral Color Palette: Farmhouse-style decor typically features a neutral color palette, including whites, creams, beiges, and muted earthy tones. These colors evoke a sense of tranquility and simplicity.

Rustic Furniture: Furniture with a vintage and rustic look is essential for farmhouse-style decor. Classic pieces like Windsor chairs, distressed tables, and barnwood cabinets add charm and nostalgia.

Vintage Accents: Incorporating vintage accents, such as antique mirrors, old clocks, and rustic lanterns, adds a touch of history and personality to the decor.

Farmhouse Sink: A farmhouse-style sink with its apron-front design is a popular addition to kitchens, bringing a traditional and charming element to the space.

Natural Textures: Farmhouse decor often incorporates natural textures like burlap, jute, cotton, and linen, adding a tactile and organic feel.
Can I incorporate farmhouse-style decor in a modern home?
Absolutely! Farmhouse-style decor can be seamlessly integrated into modern homes to create a unique and eclectic look. Here are some tips for incorporating farmhouse elements into a modern setting:
Mix and Match: Combine modern furniture with rustic farmhouse pieces to strike a balance between the two styles. For instance, pair a sleek, contemporary sofa with a distressed wooden coffee table.

Neutral Colors: Stick to a neutral color palette for walls and major furniture pieces, as it provides a cohesive backdrop for both modern and farmhouse elements.

Accent with Farmhouse Accessories: Introduce farmhouse accents and accessories like vintage rugs, rustic wall art, and throw pillows with natural textures to infuse the space with farmhouse charm.

Reclaimed Wood and Metal: Use reclaimed wood and metal accents, like shelving or light fixtures, to add rustic touches to a modern interior.

Minimalist Approach: Embrace the farmhouse vibe with a minimalist approach. Avoid clutter and focus on a few carefully curated farmhouse elements that can stand out against the modern backdrop.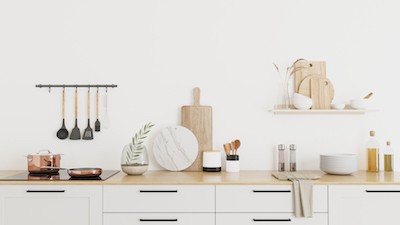 How can I create a cozy farmhouse-style bedroom?
To create a cozy and inviting farmhouse-style bedroom, follow these tips:
Wooden Bedframe: Opt for a wooden bedframe with a distressed finish or a reclaimed wood look. The bedframe's rustic charm will become the focal point of the room.

Soft Bedding: Dress your bed with soft and cozy bedding, such as linen or cotton duvets and quilts. Choose neutral or muted colors for a soothing ambiance.

Layered Textures: Add depth to the bedroom by incorporating layered textures through throw blankets, knit pillows, and woven rugs.

Vintage Accents: Use vintage accents like an antique dresser, weathered nightstands, or an old-fashioned mirror to enhance the farmhouse aesthetic.

Farmhouse Lighting: Choose farmhouse-style light fixtures, such as wrought iron or distressed metal chandeliers, to create a warm and intimate atmosphere.

Natural Elements: Introduce natural elements like potted plants, fresh flowers, and a cozy woven basket to hold blankets, infusing the room with a touch of nature.
By combining these elements, you can transform your bedroom into a cozy farmhouse-style retreat that encourages relaxation and a sense of tranquility.
Conclusion
Choosing the right decorative chairs is essential to achieving the rustic farmhouse-style decor that has captured the hearts of many homeowners. From the classic Windsor chair to the industrial distressed metal bistro chair, each option brings its unique charm and character to your living spaces. Embrace the warmth of reclaimed wood or the coziness of upholstered seats, and infuse your farmhouse-style decor with the perfect rustic-themed chairs that create an atmosphere of nostalgia and comfort. Whether you're hosting a gathering or simply relaxing in your sanctuary, these top decorative chairs will undoubtedly elevate your farmhouse-style decor to a new level of rustic elegance.
Related Questions
Where can I buy rustic-themed chairs?
One of the best places to shop for rustic-themed chairs for farmhouse-style decor are thrift stores and garage sales! Other vintage stores and online shops have great selections as well. 
Why are rustic themes and farmhouse-style decor so popular?
These design trends are popular because they allow for a lot of personality as well as unique elements. They also create a warm, familiar, and inviting atmosphere.