Simple Tips to Reupholster Your Furniture
Reupholstering furniture can be an expensive task, but with a few simple tips, you can do it yourself and save some money. After many DIY projects and researching for the best and most simple techniques, I was able to reupholster my Grandmother's old rocking chair!
What is the best tip for upholstering your old furniture? The best tip for reupholstering furniture is to start with a piece that doesn't have too many curves or details. Upholstering a round chair or detailed sofa can be more difficult and time-consuming than starting with a simple piece of furniture. Make sure to remove any existing fabric and padding before getting started.
Starting with an easier project for your first reupholster DIY is a good decision because it can be a little bit of a learning curve. Upholstering furniture takes patience and can be a little messy, so be sure to follow the tips below for a pain-free process!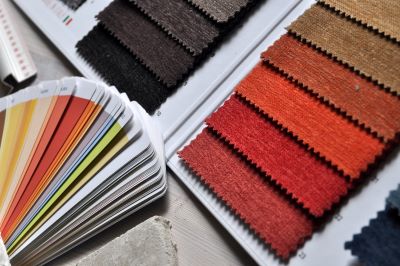 Revolutionize Your Upholstery With These Tips
Upholstery can be an expensive task, but with these easy tips, you can do it yourself and save some money.
The first step is to remove the old fabric and padding. This can be done by using a seam ripper to cut the seams of the old fabric and then pulling it off of the furniture.
Make sure to remove all of the old fabric, as leaving even a small amount can cause problems later on. If you are pulling it off, make sure to save all of the staples so that you can use them later.
The second step is to measure the furniture. You will need to know how much fabric you need, as well as the dimensions of the furniture.
This can be done by folding the fabric in half and then in half again. Then, place the fabric on the furniture and mark where it needs to be cut.
The third step is to cut the fabric. Make sure to cut it slightly larger than what you measured so that you have some wiggle room. You won't want to cut off too much fabric, but you also don't want to make it too small, or else the fabric won't fit.
The fourth step is to place the fabric on the furniture. Make sure it is smooth and flat. Without a smooth surface, it can crease easily and look bad.
The last step is to staple or sew the fabric in place, depending on what you chose in step two. This can be done by either folding the fabric in half, giving yourself an even edge to staple or by using a sewing machine.
Make sure not to place staples too close together, otherwise, it could break through the top of the chair.
What Exactly is Reupholstery?
Reupholstery is the process of professionally refurbishing any piece of used upholstered furniture – be it a sofa, armchair, lounge chair, or ottoman – by removing its existing upholstery material and replacing it with re-usable new material.
Oftentimes the reupholstered furniture pieces are re-covered with a completely different fabric or texture, giving them a brand new look. Reupholstery is generally more cost-effective than buying new furniture because it allows you to have your old piece re-worked instead of purchasing a brand new furniture set.
Basic Reupholstery Supplies
upholstery fabric (enough to cover your furniture)
staple gun
measuring tape
scissors
old newspapers/plastic to protect your flooring
upholstery foam (optional)
batting (optional)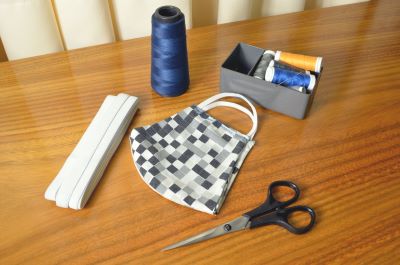 Is Reupholstering Furniture Difficult?
Upholstery is often seen as a difficult task, and it can be if you don't know what you're doing. Upholstering furniture doesn't have to be difficult though. It just requires patience and attention to detail.
Upholstery isn't about following a chart or copying exactly what you see in a picture. It's about making the piece your own. Upholstery is an art and can take some time and effort to develop your skills, but some tips will help make the process go more smoothly.
The most important thing to remember when reupholstering furniture is that you're never "done". Every time you finish something, go back over it again with sandpaper and touch up the paint or whatever finish you're using. Upholstery is a process that takes time and patience, but the result is worth it.
When it comes to choosing fabric, take your time and find something that you love. Don't just buy the first thing you see. You want your furniture to reflect your personality, so choose something you'll be happy with for years to come.
The same goes for the furniture itself. If you're not comfortable with upholstery, start with a small piece of furniture like an ottoman or a chair. Once you've got the hang of it, move on to something bigger. Upholstering furniture can be difficult, but it's also a lot of fun.
Should I Pay an Upholstery Professional?
To reupholster your furniture is a fiscally smart move. The reupholstery cost of furniture reworking is generally much less than buying new furnishings. In addition, you can choose from a variety of fabric options to reupholster your old furniture as per your unique tastes and requirements.
But how much does it cost to get your favorite loveseat looking brand new again? This largely depends on the size of the furniture and the amount of fabric needed for reupholstery. Generally, reupholstering a piece of furniture costs between $60 and $250+. However, it could be more or less depending on your needs.
Some furniture reupholstery professionals may also charge an additional fee for removing old fabric and reupholstering your furniture in stages. If you are re-covering cushions only, this cost could be less.
In addition, reupholstery can differ from shop to shop so it is important to get at least three different quotes before choosing a reupholsterer for your furniture reupholstery.
If you have smaller-scale furniture reupholstery needs such as reupholstering a bench cushion or covering a dining room chair seat cushion, some retailers sell fabric by the yard and include basic reupholstery instructions with their products. This option can save time and money because there is no need to pay a professional to reupholster furniture.
How Do You Measure for Reupholstery?
Measurement is important to ensure that the finished product will fit properly. Upholstered furniture pieces come in many shapes and sizes. It may help to bring your old fabric with you when trying to purchase new fabric for reupholstering purposes.
Be sure to measure both the width and length of the piece of furniture lest you end up with a smaller product than what you originally planned on!
Steps to Get Accurate Measurements
Use your measuring tape to measure the width of the furniture on both sides. Make sure that the measurements are as accurate as possible.

Measure the length of the furniture

, again making sure it is an accurate reading. Upholstered furniture pieces can be very long due to deep seats and armrests. Be sure to consider this when measuring so you don't purchase more fabric than what you need!
Once you have measured everything, add at least 2 inches onto each measurement before typing it into your phone or writing it down on a piece of paper. Upholstery fabric usually has 6 inches of stretch in every direction, so leaving room for error will ensure that your new fabric covers everything properly without any excess fabric.
How Do You Choose the Right Fabric?
When it comes to choosing the right fabric is important when reupholstering your furniture, make sure that the fabric is sturdy and can withstand daily use. Upholstery fabric comes in many different types, so it may take some shopping to find one you like, but you can usually find it at your local hardware store or craft store.
The best type of fabric that is easiest to sew is a solid piece with no design. If you choose a fabric with a design, make sure that the design is going in the same direction on all of the pieces of furniture that you are covering. This will help to avoid having different designs on different pieces of furniture.
How Much Fabric Do You Need?
You will need enough fabric to cover your furniture. To calculate this, you will need to measure the width and length of the furniture. Then, add an extra inch to both the width and the length. This will allow for some margin when sewing or stapling the fabric in place.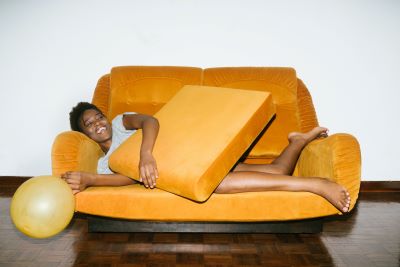 What is Upholstery Foam?
Upholstery foam is a dense foam that is used to give the furniture a softer appearance and feel. It is usually sold in rolls. You will need to calculate how much you need based on the dimensions of your furniture.
Upholstery foam can be expensive. However, it is a great way to make old furniture look new again. We recommend using a minimum of 2 inches of foam for best results.
What is Batting?
Batting is a material that is used to fill larger areas of your furniture item. Upholstery batting is very fluffy. It can be hard to sew through. Upholstery companies usually use tacks to secure the batting in place, but you could always do this yourself by using a wide needle and heavy thread.
Don't Be Intimidated to Upholster Your Furniture
We know upholstering can seem like a daunting task. However, with the right tools and instructions, it can be a relatively easy process. If you are not comfortable doing it yourself, many professional upholsterers would be happy to help you reupholster your furniture for a fee.
Reupholstering furniture can be a great way to update old pieces that are no longer comfortable or fashionable. You can reupholster just about any type of furniture, so this may be a process you want to consider if you have old pieces that just need some extra love!