Easy Tips: Fitting Your Furniture Through the Front Door
Finding a piece of furniture that you love can be a very rewarding experience. However, furniture is also often large and heavy which can complicate furniture buyings and the process of moving your furniture into your new home or apartment. With this in mind, furniture movers have put together some tips to help you decide if your furniture will fit through the front door of your apartment or townhouse.
How do you know if your furniture will fit through the front door? The most important tip is to measure your furniture before you buy it. Most furniture stores provide furniture dimensions based on the size of the furniture profiles based on height, width, and depth.
There's nothing worse than buying something that won't fit in your space. If you happen to find a piece of furniture that you can't live without, be sure to follow our tips and tricks to see if it will even get past your front door!
Tips to Find Out If Your New Furniture Will Fit
First, measure the front door of your home for width and height. This is important because you don't want your new furniture to hit the door frame or get stuck in between.
You can use sheets to act as a buffer when bringing in furniture to protect your doorway, and also to make the furniture slide in better if it's a tight fit.
Second, remember furniture movers recommend walking through your front door with the furniture as opposed to trying to turn furniture around corners. This is because furniture movers know that furniture rarely fits right through the front door of a home.
Third, see if you can make some room before you go furniture shopping. If possible, try cleaning up any obstacles from the space where you plan to put the furniture and measure again just to be sure!
Finally, don't forget that you can always have a furniture mover help you! Most furniture stores have professional movers on staff who are happy to assist customers with their new pieces of furniture.
Lastly, many couches and other pieces of furniture often have feet at the bottom. Oftentimes, you can unscrew the feet off of a couch to allow more space. You can also flip couches on their backs or heads to make them more compact.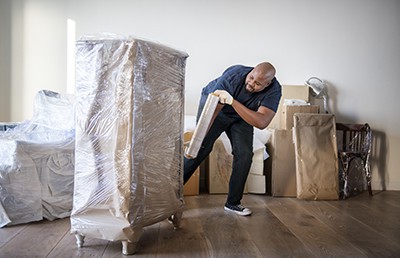 What Size Door Will Most Furniture Fit Through?
Have you ever wondered what size door furniture will fit through? There is a common misconception that furniture can fit through any size door, but some furniture is more flexible than others. Here are the general sizes of doors furniture will fit through:
Builder-grade interior doors range in size from 28″ to 32″, making them an excellent fit for most furniture.
Exterior doors are available in sizes ranging from 24″ to 36″. This furniture will fit through exterior doors, but it may be difficult for pieces of furniture with drawers or shelves to navigate the doorway.
Garage doors can range anywhere between 10′ 8″ and 14′ 6″, so furniture that fits through garage doorways will vary in size as well.
Furniture that can fit through a 28″ interior doorframe may be too bulky to maneuver furniture throughout the house. However, furniture with drawers or shelves may not fit through some doorway openings because of its size and shape.
For this reason, it is important to measure each room before purchasing furniture so you don't end up with furniture that does not fit into your home. Before buying furniture online, check out product dimensions for key pieces on the retailer's site so you know how much furniture will fit through your doors.
Do Most Couches Fit Through a Standard Door?
Most couches fit through front doors with ease, but there are a few things to be aware of. Some couches might not fit through the door if they are too big or too small.
For couches that are smaller than standard dimensions, it is easy to see whether the couch will fit in the door before trying to move it. However, couches that are bigger than the standard size pose a potential issue. Before moving couches like this, take measurements to be sure they will fit in the door.
Many people do not take into consideration the armrests or other pieces that might make couches bigger than standard measurements.
If couches do not fit through front doors easily, another option is placing couches in windows or sliding glass doors, or removing the door off its hinges and taking it inside that way.
Another possible solution is rearranging furniture so the couch can enter from a different room. Moving couches isn't always easy – if they were manufactured with wheels for mobility, try checking whether they roll.
Important Factors to Consider When Purchasing Furniture
Although most furniture can fit through a standard 32″ interior doorframe, there are other factors to consider before purchasing furniture for your home.
If you have children or pets who could potentially damage your furniture, then having furniture that is durable enough to withstand everyday wear and tear may be important.
The number of rooms in your house is another factor you should consider. If you live in a small apartment, then furniture that takes up less space will make your house look bigger. If you like to entertain guests in your home, furniture that can accommodate the extra traffic flow is important.
The furniture store you choose is also important. Furniture stores that offer furniture that is unique, durable, and comfortable will be your best bet at getting furniture that fits your needs.
An interior designer can also help with furniture selection. They have experience in what furniture looks best together and what furniture matches a particular style of design.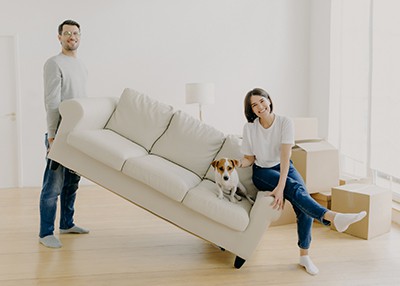 How to Know If a Piece of Furniture Is Good Quality?
When furniture shopping, you will want to make sure you are buying furniture that is of good quality. If furniture breaks within a short amount of time, it can be an expensive mistake! There are things to look out for when trying to determine how good your furniture is.
Follow this furniture quality checklist:
Examine Legs on Chairs or Furniture
Furniture with the right kind of legs will stand up better over time. Straight and sturdy legs are best, rather than small spindly ones.
Check Furniture Joints
Good furniture will have good strong joints that fit together tightly and securely. Avoid furniture where glue or staples were used to hold things together: these materials may deteriorate quickly under normal wear and tear.
Look at How the Furniture is Attached to Its Base
If it appears that screws or nails were used, this adds extra stability to the furniture. Furniture that only has glue on its bases won't last as long as something more sturdily constructed.
Check for Dovetail Construction
This type of furniture construction uses interlocking pieces of wood to create much sturdier furniture than furniture with simply glued sections. This type of furniture will last much longer without breaking apart.
Smell the Furniture
Good furniture shouldn't have an unpleasant smell, especially not a chemical-like odor that might mean the furniture is made of MDF or other composite wood materials.
Feel Furniture Surfaces
Furniture shouldn't be too smooth or too rough. The furniture should have a pleasing feel to it, soft but not overly papered.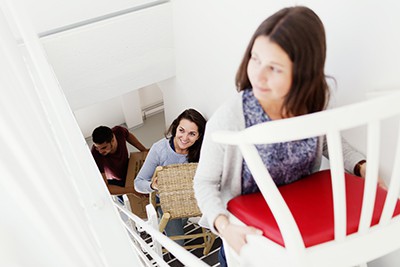 Look at the Furniture Upholstery
Good furniture features fabric or padding that is securely attached. Look for loose threads and signs of another unraveling to avoid furniture with cloth parts that may unravel quickly.
All of these signs will help you determine what furniture to buy and which furniture to avoid. With some good furniture shopping tips, finding quality furniture doesn't have to be a challenge!
How Can You Tell the Quality of Wood?
There are many ways wood may be judged, but it ultimately comes down to the type of wood being examined. Wood is typically classified into three different categories: hardwood, softwood, and woods that are neither wood nor softwood.
Hardwoods tend to last around 40 years while softwood has an average life expectancy of 20-30 years. Woods that are neither wood nor softwood (such as cedar, redwood, and cypress) tend to last less than 20 years.
Softwoods can be identified by their needle-like leaves while hardwoods have broad leaves like oak trees. The wood itself will also indicate quality; wood with knots or other imperfections is not high-quality wood.
Wood may also be judged based on the seasons in which it grew; woodcut in the summer has a greater chance of splitting because sap is still present in the tree whereas wood harvested in winter will generally split less often because there is no sap flow during this time.
Lastly, wood density should never be overlooked when determining wood quality; higher density wood shows better grain and color.
Make Sure You Make Educated Purchases!
In conclusion, many factors should be considered when buying furniture.
The size of a piece of furniture will determine if it will fit into your front door, but also in your space with other furniture pieces. You won't want to go through all the hard work of getting a piece of furniture into your home if it's going to break within a few months.
Determining the furniture's quality is important. You don't want furniture that will not last or furniture that you need to constantly fix. So make sure you investigate the next piece of furniture you want to purchase!