Designing Your Perfect Farmhouse Kitchen Look
A farmhouse kitchen can be a place where you create wonderful memories with the family, enjoy the warmth of the fireplace on chilly nights, and cook delicious meals for any occasion. The farmhouse style is quite popular throughout the country today!
However, farmhouse kitchens are commonly mistaken as being outdated or old-fashioned. This couldn't be further from the truth! Farmhouse kitchens are more modern with decor, style, and lighting that bring out the classic look.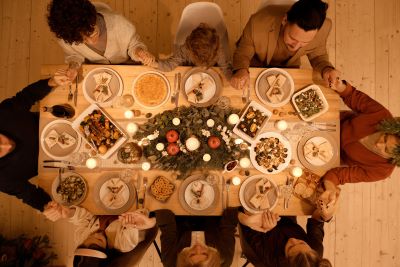 Decorating a Farmhouse
Farmhouses are already traditionally decorated with antique farm tools. However, the farmhouse look has grown out of that to decorate homes more modernly.
In farmhouses, the decor is predominately made up of farmhouse furniture, wall art, and accessories. There are lots of farmhouse design pieces that can bring out the farmhouse look in a modern way to create a perfect farmhouse kitchen look!
For instance, a farmhouse table with a metal base is a design piece that can be used to create a farmhouse kitchen look in any modern space. Farmhouse kitchens are typically made of solid wood cabinets, granite countertops, and stainless steel appliances. These are commonly seen in today's modern farmhouse kitchens.
More Accessories To Add
Farmhouses are also decorated with metal wall art, farm tools, pegboards for putting farm tools, antique farmhouse crates, and mason jars that can also be used to create farmhouse decor. The farmhouse look in the kitchen is very versatile and you can choose farmhouse style for doors, cabinets, and flooring too!
When choosing colors, it's important to consider your furniture and appliances. If you have wooden cabinets, then it would be best to choose light colors for your walls so that they'd stand out better. If you do get darker cabinets, use classic farmhouse countertops with lighter wall colors so the dark doesn't overpower everything else in the room.
Another way of decorating farmhouses is by using more modern accessories than farm-style decorative pieces. You can find farmhouse kitsch in farm country or at antique stores. But, it is also becoming more common to purchase something like farmhouse vanity lights online.
Eight Ideas To Obtain The Modern Farmhouse Look
Romantic farmhouse design accent pieces will use yellows and blues with white or light cabinets. Classic farmhouse accessories will show more green and black with dark stained wooden cabinets.
Farmhouse lighting should be bright and airy without looking too dreary or giving off an unpleasant glow.
Farm tables are generally made of wood that is not painted or stained to show off the beautiful and natural wood grain.
When choosing color schemes for your kitchen cabinets always consider which appliances you want to go along with them (e.g., black stove with black fridge).
Farmhouse accessories can range from farm table decor to farmhouse-style lighting or massive farmhouse sinks. Farm tables are generally wooden (or sometimes metal) and designed with farmhouses in mind.
Farmhouse colors should be light but may include darker shades for accents.
If you have wooden cabinets, choose lighter wall colors so the wood has something to stand out against. If you have dark wooden cabinets then use classic farmhouse countertops with lighter accent walls around your kitchen island.
Farmhouse design doesn't mean just using old farm tools as decoration. It means incorporating modern elements into a setting that includes vintage items without making them appear too frilly or faux.
Interior Design For a Farmhouse
Farmhouse kitchens are not for everyone. However, if you want a vintage look without the farm tools everywhere, farmhouse decor is perfect for anyone who wants their kitchen to be cozy and comforting.
If there is one key aspect to farmhouse design that should not be overlooked, then it's lighting. Lighting makes all the difference in any space (especially when trying to sell your home). Make sure you install proper farmhouse lighting around your kitchen. Anything less will detract from the overall effect of farmhouse decorating.
With farmhouses, unlike other types of homes, interior design does not take away from the farmhouse feel. When adding farmhouse accessories, you are not making your home look too staged or fake-looking. You can choose farmhouse decor that allows farmhouses to stand out as unique and original farmhouses while still looking modern and fun.
All The Decor To Find
When designing a farmhouse kitchen, it is important to remember the key aspects of what makes farmhouses special: farm style decorative pieces, vintage elements without kitsch, natural colors with pops of color for accents, lighting that doesn't make the room appear dark or dreary, etc. If done right, your farmhouse kitchen will be beautiful and stylish to boot!
Using Farm Tools
A classic way to add a touch of farmhouse decor is by using farm tools in your home. From handmade wooden spoons to antique cast iron pans, most farms have their own unique set of farm tools that they use daily!
In times when machines or automated processes were too expensive for smaller farms, these tools were an essential part of any farmer's collection. Today, some farmers prefer the comfort and ease of modern appliances. However, few can resist the charm of old-fashioned cooking utensils from generations ago.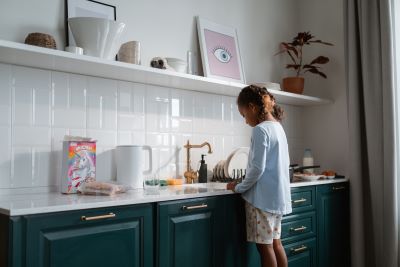 Farmhouse Sinks
Farmhouses generally had farmhouse sinks in their kitchens. These sinks are larger than typical household sinks and generally incorporate farm sink accessories like farmhouse aprons (dividers) to separate the clean dishes from others that were used for preparing meals. The farmhouse's kitchen is designed with big farm-style tables on one side of the room and a farm sink on the other.
Usually, there will be a window above the sink where you can hang your favorite flower baskets during the spring months. If you're interested in designing your farmhouse kitchen, browse through some pictures owned by farmers who've taken their inspiration from old homes!
Farmhouse Colors
The color of your home exterior does not determine whether or not it can be considered a farmhouse. However, most farm homes are painted in the traditional white that stands out against the green grass. This allows anyone driving down the road to spot an old-fashioned farm-style home that has kept true to its roots despite modernization.
As you design your farmhouse look, keep in mind that even though modern colors like blue or red may be popular for houses today reserve these colors for non-living areas of your home (such as bedrooms).
Rustic Farm Tables
A rustic dining table can be perfect for any modern farmhouse kitchen. Combine farm country charm with design elements of today to create the ultimate rustic farm table. The first step is to select a table with some sort of wood top.
This will allow the tones of your favorite meal's ingredients (or even its sauce) to shine through as you eat. As you decide on what kind of wood tone you'd like, consider how it will look over time. Also, think about the style when you add other decorative touches such as farmhouse style potholders.
Cabinets
Farmhouse kitchen cabinets generally come in a few types: solid wood, laminate, and metal. If you're thinking about designing a modern farm kitchen, certain factors should be taken into consideration. The color of your cabinets can affect how bright and open your kitchen feels or how dark and enclosed it looks. This could depend on what sort of decorating touches you add to the room.
Solid wood is one of the most expensive options for cabin set-ups. However, they can last forever if properly maintained. Laminated cabinets are less expensive than solid wood but also have a more synthetic feel. But, painting them with farmhouse-friendly colors may enhance their appearance.
Flooring
The flooring in the average farm kitchen is usually made out of wood or tile. It needs to be sturdy enough to handle heavy objects being thrown around by tired cooks after long days.
If you're designing your perfect farm-style kitchen then consider the surface that will best complement your other design elements. Also, keep in mind how easily stains can come off (or if they will show up at all).
Tile is often chosen because it's easy to clean and doesn't show scratches as wood floors do over time. However, not everyone likes the feeling of tile under their feet. Another option for farmhouse-style kitchens is using wood floors. This will give your home an almost farmhouse-chic look.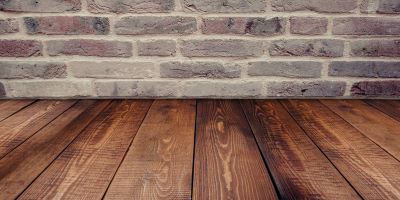 Modern Farmhouse Kitchen Decor
Of course, a modern farmhouse kitchen will include a few modern design elements! These can be as simple as changing cabinet knobs or as drastic as adding an entirely new island countertop to your farm sink.
Some add more colorful accents such as dishes and by painting the island cabinets a different color from the rest! Modern touches can also be sleek and simple in design. Touches of silver metal add clean details to the farmhouse trend.
Cabinet Hardware
It can be difficult to find hardware for modern kitchen cabinets. Most hardware stores carry several finishes of cabinet knobs and pull so finding something appropriate is not hard. If you have old-fashioned kitchen cabinets then you have more freedom when it comes to picking out new farmhouse-style cabinet hardware.
In Conclusion
When you're trying to decide what farmhouse-style additions will work for a modern farm kitchen, you need to take a few things into account. First, decide on the overall look that you'd like your farm-style kitchen to have. The next thing is to think about how comfortable you are with farmhouse details and then consider what kind of farmhouse details you want to include.
Also, take into account how your farmhouse kitchen will be used for everyday cooking and cleaning. Once you know the directions you are heading towards, shopping for the decor will be the most fun part of it all!