Best Couches for Therapists
When visiting your therapist for counseling, you want to be comfortable. When you're a therapist, it's important to make the effort to help your clients feel as comfortable as possible too, and one of the best ways you can do this is by purchasing the perfect couch. What are the best couches for therapists?
Here are our picks for the five best couches for therapists:
So, now that you have an idea of the top couches for therapists, let's examine the factors that you need to consider before picking out a couch before we examine each of the best couches for therapists.
Factors to Consider
There are several elements to pay attention to when selecting a couch for your office:
The Material
The material you choose for your couch will play a large role in setting the tone for your office where you'll be conducting therapy sessions. A leather couch, for example, will project a more formal, professional image, while a cloth couch may appear — and feel — cozier and more inviting. Choose the material that best fits the general atmosphere you're trying to create.
The Size
You'll want to make sure you choose a couch that's large enough to comfortably seat your clients, but not so large that it swallows up the room and makes it feel cramped. If you counsel couples or groups, consider a couch that is large enough to fit more than one person or small enough to allow you to fit additional seating in the room if that's what you'd prefer. If you mainly counsel children, consider a smaller couch that will be less intimidating for them to sit on.
The Color
The color of your couch can also influence the overall tone of your office. If you want to create a calm, relaxing space, stick with neutral colors like white, black, or gray. If you want something with a little more personality, consider a brighter color like blue or green.
The Shape
The shape of your couch can also make a difference in the feel of your office. A traditional sofa with straight lines and squared-off corners may project a more formal image, while a couch with softer edges and curves may appear more inviting and approachable. You should also pay attention to how comfortable a particular shape is to sit on for an extended period of time, as some types of couches that look attractive can actually be very uncomfortable.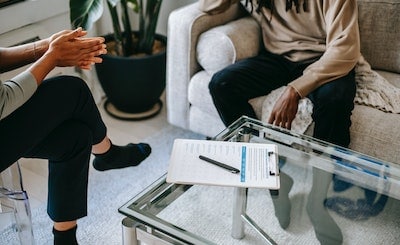 When choosing a couch for your clients to sit on as you conduct therapy sessions with them, use what you know of your personality, your client's personalities, and the overall feeling you want your office to have to make your decisions about the couch's material, size, color, and shape.
So, with all of this in mind, let's take a look at our choices for the top five couches for therapists in order to help make this decision easier for you!
Classically inspired with a modern edge, this loveseat is designed to impress. A tufted bench seat cushion provides just enough comfort while the sleek back cushions and tidy bolster pillows add that extra touch of style you've been looking for!
Review:
This whole shipment and arrival went very well. And this sofa looks and feels great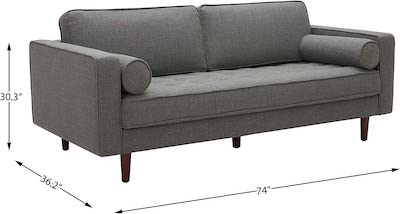 You'll want to cuddle up on this sofa with its plush cushions and deep-pocketed backrests. The clean lines of the design make it perfect for any therapist's office, but especially one that needs an inviting feel!
Review:
I was hesitant to purchase these sofas w/o being able to have a test sit, but after reading the reviews I took the gamble. It definitely paid off. It's very well made, but the best surprise was the deep seats. The sofa hugs you into it. We are tall people, not unusually so, but other sofas I purchased online always seemed to have short seats that felt like you were being pushed off. These are deep and comfortable. It's a large sofa, so measures well, but definitely worth the purchase.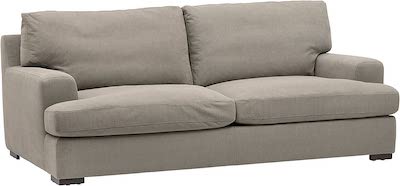 Dearmsir's modern velvet loveseat sofa is the perfect way to add a touch of luxury and style to your home or office. Made from velvety fabric and serpentine springs with solid wood construction for lasting comfort – this small couch provides you with hours' worth of relaxation in any space!
Review: 
I like my new sofa! You won't find a sofa like this, especially for this price. Absolutely comfortable and beautiful. It's a great size for small or medium rooms and offices. Also, I would like to order another one.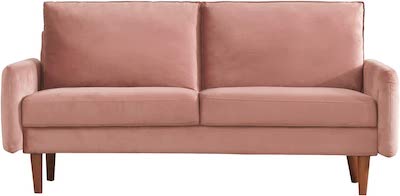 Mellow's ADAIR sofa and loveseat collection is the perfect size for small spaces, including college dorms or office areas. With its versatility, you can fit it into any room with ease!
Our sofa frames and legs are made with real Eucalyptus wood, which gives you the sturdy support needed while still looking elegant. The high-density foam cushions also provide firm seating while still being soft and inviting.
Review: 
Comparable to couches in a much higher price tier. Very sturdy, literally took 5 minutes to assemble, and padding seems firm and likes it will hold its shape well over time! The loveseat fits my small studio perfectly and is also very portable and easy to drag around.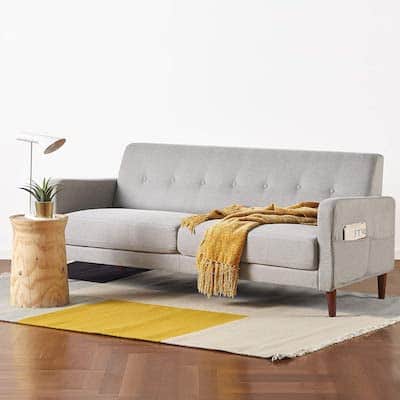 Whether you're looking for something minimalistic, contemporary, or traditional — the Jackie Sofa has an appeal that will fit in just about any setting. It's made of durable materials like firm and supportive foam cushioning with polyester fabric upholstery, and the tapered legs and flared arms give it the perfect blend of comfort and style.
Review:
It was so easy to assemble and it looks adorable and I was one person myself who did it all. I'm so happy I bought it.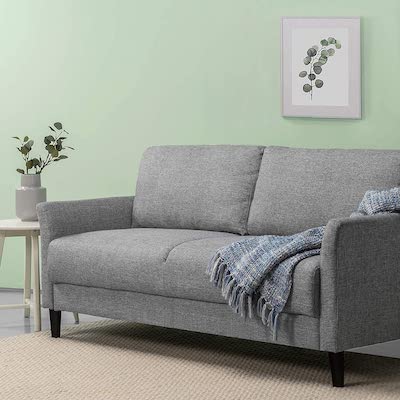 Conclusion
A well-chosen couch can make all the difference in your therapy practice. It should be comfortable for you and your patients, and it should convey the message that you're ready to help. The five best couches for therapists we've listed here are our favorites, but ultimately, the best couch for you is the one that fits your needs and budget. Try out a few of them and see which one works best for you and your practice.