The Best Chiropractic Tables
As a chiropractor, it's important that you provide your patients with the best care possible. This involves having the right equipment and tools, and one of the most important pieces of equipment in your office is the chiropractic table. What are the best chiropractic tables?
Here are our picks for the seven best chiropractic tables:
So, now that you have an idea of the top chiropractic tables, let's examine the factors to consider before examining each of these tables in detail.
Factors to Consider
You want your chiropractic table to be comfortable for your patients and effective for you to use, so here are a few elements to keep in mind when shopping for a chiropractic table:
1. Comfort
When visiting the chiropractor, your patients will be spending a lot of time on the chiropractic table, so it's important that it's comfortable. Look for a table that has cushioned surfaces and is adjustable to accommodate different body types. Armrests, drop sections, and other features like these will make your patients' experience that much better.
2. Functionality
You'll want a chiropractic table that is easy for you to use and provides the features you need. Look for a table that is height adjustable, has a drop section, and is easily portable if you're planning on moving it regularly.
3. Durability
A chiropractic table is a big investment, so you'll want to make sure it's built to last. Look for a table that is made from high-quality materials and has a strong warranty. You should also make sure it's easy to clean and will stand up to cleaning chemicals.
4. Price
Chiropractic tables can range in price from a few hundred dollars to several thousand, so it's important to set a budget before you start shopping. Keep in mind that the features you want will affect the price, so be sure to prioritize what's most important to you.
5. Brand
There are many different brands of chiropractic tables on the market, so it's important to do your research and find one that you can trust. Read online reviews, talk to other chiropractors, and get a feel for what each brand has to offer before making your decision.
6. Additional Features
As we mentioned before, the features you want will affect the usability of your chiropractic table. Some features, like height adjustment and a drop section, are essential for most chiropractors. Others, like heat and massage, may be nice to have and while they technically aren't necessary, many chiropractors like to have at least one table with these features.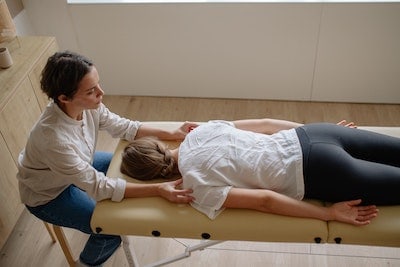 The best chiropractic tables are those that meet your specific needs and budget. By keeping these factors in mind, you can be sure to find the perfect table for your office.
So, with all this in mind, take a look at our top seven chiropractic tables to help narrow down your options!
The Royal Massage Sheffield Portable Chiropractic Table is a perfect design for portability and function in any environment. It features lightweight construction and professional options including height adjustment capabilities to suit your needs as well.
The Sheffield table is a great alternative to bulky stationary designs. It's strong, stable, and easy to transport!
Review:  Good table for the price. Bought for my daughter that's in school for practice. Does its purpose. Good customer service.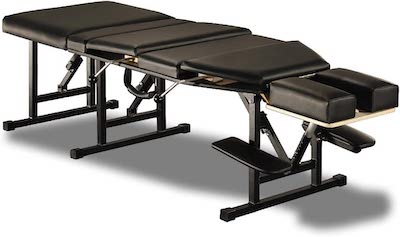 Introducing the newest and most advanced massage table from our professional line. This beast of a machine has 2.76″ thick high-density foam cushioning that's not only comfortable but also durable! The cover is made out of luxurious PU leather for easy cleaning purposes while still being soft on your skin.
This model comes equipped as well with heavy-duty hinges which will allow it to fold right up when you're finished using it.
Review: Lightweight and sturdy. Very functional. Good value.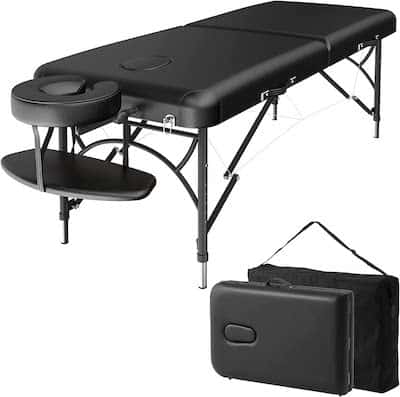 The Therapist's Choice Arena 180 Portable Chiropractic Table is the perfect choice for anyone who needs to quickly and efficiently set up a treatment area. This lightweight table comes with all of your professional options built in, so you'll never have another bulky piece of equipment taking up precious space again!
Review: My husband is a retired chiropractor. He was missing the ability to work on family and friends not having the right table. He is so very happy with this table and feels it suits his needs.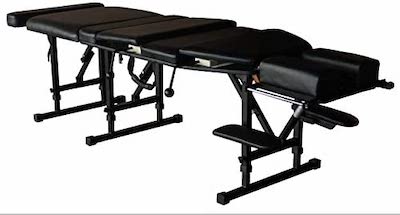 The Royal Massage Sheffield 180 portable chiropractic table provides all the professional options you need in a lightweight design. Perfect for professionals who want to offer their services on the go or at remote sites — this product has it covered!
Review: Table is excellent. Very heavy duty. All the drops work well with the ability to adjust them. It's easily 50 lbs but still to me portable.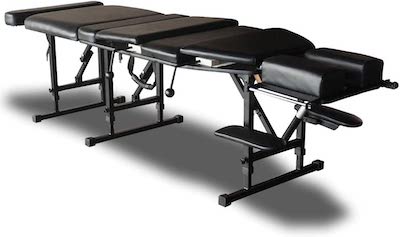 The table is perfect for physical therapists, chiropractors, and massage therapists who work with patients on a daily basis. Its lightweight design makes it easy to transport from one treatment site or patient visit to another without having any difficulties whatsoever!
Review: I'm a Chiro Student, I bought this due to my school moving to 100% online due to COVID-19. Not only was I able to practice on it. Has worked really well for me so far. Will update if anything goes wrong and add pics, but, so far so good!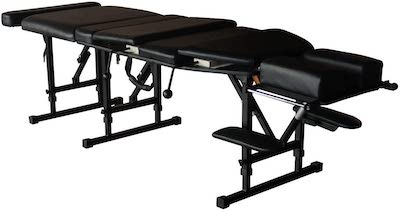 The chiropractic table is made of high-quality PU leather, which means it can be easily cleaned and will not irritate your skin. The inside has memory foam that makes the surface very comfortable for laying on while receiving massages or chiropractic care.
Review: This table is so well made and easy to pack and carry if needed.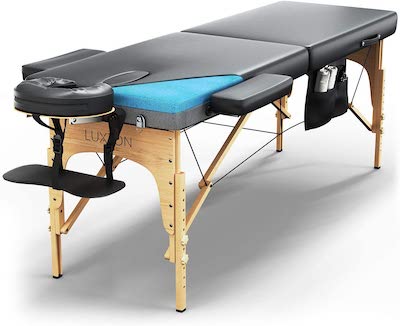 This massage table is the perfect way to offer clients a professional experience. With its precision-crafted design, this sturdy and steady weight capacity of 450 lbs., it's easy enough for anyone in your home or business!
Review: I gotta say, it was really easy to assemble and it was very sturdy. I'm 165lbs and didn't hear or feel any movement from the table.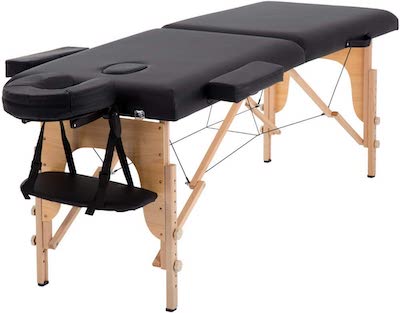 Conclusion
If you're looking for the best chiropractic table, then hopefully this guide helped you find what you need. Remember to keep your budget in mind and think about what features are most important to you. Once you have a good idea of what you're looking for, it should be easy to find the perfect chiropractic table for your needs. Thanks for reading!