Is It Time To Buy A New Sofa?
Time passes by quickly. You are changing clothes and know pretty quickly when you need to get new clothes. Furniture on the other hand is made of more tough material. You really cannot tell when it is time to buy a new sofa. Especially, guys are less likely to notice the need for replacing the sofa.
How can you tell if it's time to purchase a new sofa? There are those exceptions like stains and damage to the sofa, that demand your sofa being replaced. Most of the time guys are less likely to notice the need for replacing the sofa. Here are some reasons to replace your sofa.
There is not anyone who has not come across a sofa that's clearly out of date in their living space? To prevent such an issue in your house, replace your furniture every 6-15 years. A sofa is something that you will use more than any other piece of furniture in your house.
How To Know It's Time To Buy A New Sofa
Some clear signals are showing up on the surface of a sofa to indicate that it may be time for you to purchase a new one: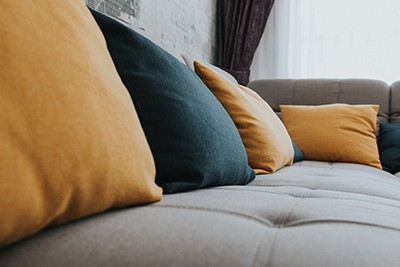 The Sofa Just Looks Bad
A few frayed places on fabric do not mean that the furniture is unusable. There's a difference between changing the decor colors and tastes versus having ragged, faded, or heavily soiled upholstery. Most textiles will wear down with time due to usage, jumping children, and pets.
Even on leather, some fraying can be tolerable. Placing a couch in front of a window causes fading by that receives direct sunlight. The color will fade, as well as the UV rays from the sun can cause the fibers to disintegrate and rip.
Whether you have one or ten people using the couch, stains are unavoidable. Spills should be dealt with as soon as possible, and a complete fabric cleaning will make the cloth seem newer while also eliminating some smells.
You may buy cleaning solutions or rent or buy steam-based equipment, or hire a professional cleaner to help you clean your furniture.
If the couch is structurally sound and/or meaningful, it may be reupholstered rather than replaced. Reupholstery fabric is pricey, and unless you are very handy with do-it-yourself projects, a professional may be required.
Perhaps a decent slipcover will buy you some additional time while you weigh your options: a slipcover is more economical than reupholstering and can be quickly removed to clean.
Your Sofa Does Not Look Right In That Room
Most of the time a person's first couch purchase will be made after college for a rented apartment, and now it looks lost in a large family room in their new home.
There also could be the need to downsize after changes in the family have occurred. The big couch is crammed into a new smaller space blocking the views from the windows. Relocating smaller sofas to a bedroom or study can be easily done.
However, in smaller rooms, a couch should not be crammed between other pieces of furniture or positioned in such a manner. It will now be rubbing against another surface when people sit or lie down. When this happens, the upholstery will wear out quickly and the frame might be damaged.
When You Sit On The Sofa You feel Itchy/It Smells Bad
If you haven't spent much time cleaning pets' messes, leaking diapers, and sweaty bodies and feet from the sofa, moisture may have built up in the fabric and padding beneath.
Vacuuming and steaming cleaners regularly keep odors at bay for a while, but they eventually prevail. It may be time for a new one. There is no doubt you didn't select a scratchy fabric when you bought your sofa.
Now that you are itching after a nap and perhaps have red welts on your legs, bedbugs may be the reason. That would necessitate a need for a new couch.
Your Sofa Makes Creaking Sounds
Each time someone sits down, you may hear squeaking, popping, or cracking. These are warning indications that the couch has structural damage if you hear squeaking, popping, or creaking every time someone sits down.
The noises might be a metal spring failing or a wooden frame buckling. Hardwoods and screws were used to construct older furniture.
Unless the couch is older or a cherished family heirloom, the cost of repairing the structural damage and replacing the upholstery can be nearly as much as a new sofa.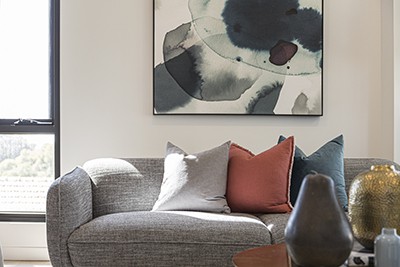 The Sofa Is No Longer Comfortable
If the carpet feels more cushioned and supportive than the sagging couch cushions, it's time to make a change. If the remainder of the sofa upholstery is still in excellent condition and can be simply removed from the seat cushions, you may be able to rejuvenate your couch by simply replacing its stuffing.
Cleaning and replacing the cushion padding, in combination with a thorough vacuuming, can make a couch feel new again.
If you have a bulky or heavy piece of furniture that is difficult to move, removing and re-stuffing the cushions makes it easier to clean under them.
Furniture cushions can be filled with cushion inserts. These are dense foam pieces cut to the appropriate size or shredded and loose foam. To give the seat cushions a little more support, measure the distance between the side arms of the sofa and the depth of the seating area.
Cut a 1/2-inch-thick piece of a firm foam piece a few inches larger than the depth measurement. Then place the foam between the side arms and back edge of the couch to give it a little more support.
Your Personal Design Choices Have Matured
That intricated pattern you once loved now appears so outdated? It's natural for your preferences and house designs to alter over time. Eclectic design is great for decorating, but even that look may need updating from time to time.
Sofa Buying Guide
You probably have a coffee table, end tables, and lamp. All these elements of your living room furniture can be found by the same company. The buying process requires that you take some time to research brands in these categories. Since you would like a sofa in this room, it will be important to know where their sofas are sold.
Here are a few things to think about before purchasing your new sofa:
The Comfort Factor
Comfort is the most important aspect of a sofa purchase. If you do not sit on it, how can you know if you will be comfortable?
It may be a good idea to have friends or family members try sitting on the models that you consider buying. You should at least read reviews online.
The Width of your Sofa
If you have a small living room, then the width may be the most important factor. A larger sofa can overwhelm a space and make it look smaller than it is.
If you have a larger space, then the length of the sofa becomes more critical since you need to make sure that it is long enough to seat everyone. If there are nooks and crannies where people can sit, then they will gather in those areas if the sofa is too small.
The Material of Your Sofa
Most sofas tend to be made from leather, microfiber, or cotton. Leather provides a luxurious look and feel but is expensive.
Microfiber is a fabric that imitates leather but at a fraction of the cost. Cotton can provide comfort, but it wrinkles easily and has an inexpensive look to it.
Price
The price range for modern sofas varies dramatically from one style to another as well as from one material to another. That being said, the most important aspect of a sofa purchase is how comfortable it feels.
This can be determined by sitting on the model that you are considering before buying it.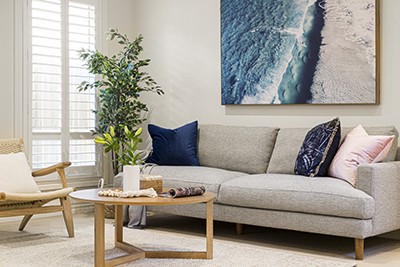 Will The New Sofa Match Your Current Furniture In The Room?
If you are looking for an upgrade to your room, remember that not all sofas go well with all types of contemporary furniture.
For example, leather is a popular material used in the manufacture of modern couch sets. This does not mean that it will match other materials like glass or chrome.
What About Refinishing / Reupholstering My Sofa?
There are many times a person has inherited a sofa and there are many family memories on that sofa. . You will need to choose whether or not to reupholster them. You might even just simply love the feel and overall look of the sofa. If you like the sofa but want to get rid of the signs of use and tear, reupholstering might be the answer.
However, there are several questions to consider before jumping in.
Is the piece an antique?
What type of fabric is best?
Is the sofa's structure sound?
Should I do this myself?
Conclusion
Sofas are a substantial purchase, so it takes a little time to compare styles. A new sofa can be relatively pricey, especially leather sofas, so are sure to try them before making your purchase. Remember to consider how it fits with the rest of your house. It may be a good idea to ask friends, family, or a local professional if they would sit on them before buying.